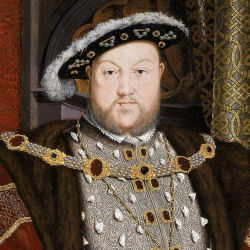 King Henry VIII Family Tree showing:
parents
siblings
partners
children
Short Biography of King Henry VIII
Early Years
King Henry VIII was born to King Henry VII and Elizabeth of York on 28th June 1491 at Greenwich Palace, London. He was the couple's second son, born five years after his brother Arthur.
Prince Henry was educated at home. His first tutor was John Skelton the Poet Laureate. Henry was very bright and enjoyed learning. It is likely that, as a second son, he was destined for a life in the church.
In 1501 Henry's elder brother, Arthur, married Catherine of Aragon at St Paul's Cathedral. Prince Henry was given the task of escorting the bride and 'giving her away' to his brother.
Heir to the Throne
Henry became heir to the throne in April 1502 after his brother, Arthur, died of a viral infection. Henry VII did not want to lose Catherine's dowry so a treaty was drafted for Henry to marry his brother's widow, Catherine of Aragon.
In 1505, Henry was instructed by his father to publicly repudiate the betrothal. England no longer needed an alliance with Spain and Henry VII hoped to make a better match for his son.
Following the death of Arthur, King Henry VII became very aware that Henry was his only son. Henry's mother, Elizabeth of York became pregnant but died shortly after giving birth prematurely to a daughter in 1503..
In order to ensure that no illness or injury befell Prince Henry, his life became more tightly monitored. He was no longer to go out unaccompanied and was kept away from any illness or disease.
Early Reign
King Henry VII died on 21st April 1509 and Prince Henry succeeded as King Henry VIII. One of the first things he did as king was to propose to Catherine of Aragon. The couple were married on 11th June at Greenwich Palace two weeks before their joint coronation.
Henry had little interest in the governing of the country and refused to attend to state business until he wished to do so. He was, however, very interested in planning a war with France and hoped to make himself King of France. He arranged a joint invasion of France with his father-in-law Ferdinand of Spain. However, Ferdinand used English troops to help him secure Navarre then turned his back on Henry.
Henry VIII invaded northern France in 1513 and although the English took Therouanne and Tournai these victories were far less than the defeat of the Scots at the Battle of Flodden Field by the Earl of Surrey, which saw King James IV killed on the battlefield.
Rise of Wolsey
Thomas Wolsey was the son of a butcher who had risen through the church to become a member of Henry's council. He proved himself a skilful administrator and Henry was content for him to deal with matters of state. Following Ferdinand's duplicity in France, Wolsey favoured allying England with France instead of Spain. In 1514 a peace was agreed which was sealed with the marriage of Henry's younger sister, Mary, to King Louis XII.
In December 1515, Wolsey, now a Cardinal, was created Lord Chancellor of England. In 1518, Wolsey negotiated the Treaty of London with France. This new peace treaty was to be sealed with the marriage of Francis, the Dauphin, to Henry's daughter, Princess Mary.
In 1520 a summit meeting between Henry VIII and Francis I was arranged. It is known as the Field of the Cloth of Gold because the tents that accommodated the guests were made of cloth of gold.
However, before Henry sailed home to England he held a meeting with Charles V of Spain. A treaty with Spain was agreed and in 1522 Henry VIII declared war on France. However, Charles V broke the agreement and did not send the promised military support for Henry. The English army returned home in 1524 having failed to make any gains in France.
Break with Rome
By 1524, Henry VIII had been married to Catherine of Aragon for 15 years. However, despite numerous pregnancies the couple only had one living child, Princess Mary. Henry became increasingly convinced that his lack of a male heir was a punishment from God for marrying his brother's wife.
In 1526, Henry VIII asked Anne Boleyn to become his latest mistress but she refused saying she would only surrender her virginity to the man she married. Anne's refusal made Henry desire her even more and it soon became an obsession.
Henry decided that he had to divorce Catherine so that he could marry Anne Boleyn. Thomas Wolsey was tasked with making the divorce a reality. However, despite being pressured to do so, Catherine of Aragon refused to agree to a divorce or to enter a convent. With the Pope controlled by Catherine's nephew, Charles V, it was unlikely that the Pope would sanction the divorce. An ecclesiastical court was held to try the marriage but by 1529, Henry still did not have his divorce and Wolsey fell from favour.
Thomas Cranmer, who favoured religious reform, suggested to Henry that if he were head of the English Church then he would not need the Pope to grant him a divorce, he could sanction it himself. A succession of Acts of Parliament were passed that broke the ties between England and Rome and declared the monarch the Head of the Church in England and established the Anglican religion. In 1536, the monasteries in England were closed and their property and possessions seized by the Crown.
Henry VIII married Anne Boleyn in January 1533 after she revealed she was pregnant. The Act of Succession, passed in 1534, settled the succession on the children of Henry and Anne Boleyn and declared Princess Mary illegitimate. However, Henry and Anne only had one living child, Princess Elizabeth. By 1536 Henry was tired of Anne. She was found guilty of committing adultery and executed.
King Henry VIII – Wives, Mistresses and Children
King Henry VIII is best known for having six wives, but he also had a number of mistresses. He had three children born legitimately and also illegitimate children:
Married – 1509, divorced 1533 – Catherine of Aragon (1485 – 1536) – children – Mary I (1516 – 1558)
Affair – 1518, Bessie Blount (1500 – 1540) – children – Henry Fitzroy (15109 – 1536)
Affair – 1519, Mary Boleyn (1500 – 1543) – No children
Married – 1533, executed 1536 – Anne Boleyn (1501 – 1536) – children – Elizabeth I (1533 – 1603)
Affair – 1535, Madge Shelton (dates not known) – No children
Married – 1536, died 1537 – Jane Seymour (1507 – 1537) – children – Edward VI
Married – 1540, divorced 1540 – Anne of Cleves (1515 – 1557) – No children
Married – 1540, executed 1542 – Kathryn Howard (1521 – 1542) – no children
Married – 1542 – Katherine Parr (1512 – 1548) – no children
Later Reign
In 1536 Henry VIII fell from his horse during a joust and was unconscious for around two hours. He survived but it is recorded that his personality changed following the event. He became more apt to mood swings and his behaviour became more tyrannical. The fall also opened up an old leg wound which ulcerated and gave him pain for the rest of his life.
Politically, the court of Henry's later years was dominated by the Conservative Catholic faction headed by the Duke of Norfolk and Stephen Gardiner and the Reforming Protestant faction headed by the Seymour family and Thomas Cranmer. Henry played one side off against the other making the court a hotbed of plots and intrigues.
In 1544, a new Act of Succession was passed. The Act settled the succession on Prince Edward and his heirs. If he were to die without issue then the succession would pass first to Henry's daughter Mary and then to Elizabeth.
King Henry VIII died on 28th January 1547. He was succeeded by his son, Edward who took the throne as King Edward VI.
First published 2020; updated and republished Feb 21 2022 @ 12:42 pm – Updated – Sep 16, 2022 @ 11:56 am
Harvard Reference for King Henry VIII Family Tree:
Heather Y Wheeler. (2020 – 2022). King Henry VIII Family Tree (1491-1547). Available: https://www.treesofblue.com/king-henry-viii-1491-1547. Last accessed December 7th, 2023