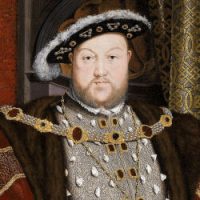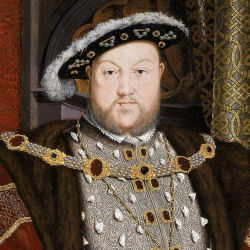 Henry VIII was born 28th June 1491 and died 28th January 1547. He was the son of King Henry VII and Elizabeth of York. As the couple's second son he was destined for a career in the church. After his brother Arthur died in 1502, Henry became Prince of Wales and heir to the throne.
He became King after the death of his father in 1509 and married his brother's widow, Catherine of Aragon. In 1527, with no male heir, he decided to divorce Catherine and marry Anne Boleyn. He separated the Church of England from Rome in order to get his divorce. Anne Boleyn was executed for treason in 1536 and Henry married Jane Seymour who gave him the son he desired.
Wife number four was Anne of Cleves, a German princess, who he disliked on sight, and she was divorced. Kathryn Howard was executed and Katherine Parr outlived Henry. Despite the separation from Rome and the change of religion to Anglicanism Henry was a Catholic at heart.
 Family tree for Henry showing:
parents
siblings
partners
children
Published May 28, 2020 @ 5:40 pm – Updated – Nov 15, 2021 @ 11:06 pm
Harvard Reference for this page:
Heather Y Wheeler. (2020). King Henry VIII 1491 – 1547. Available: https://www.treesofblue.com/king-henry-viii-1491-1547. Last accessed January 21st, 2022