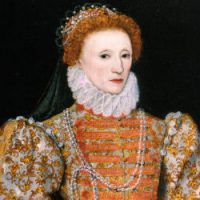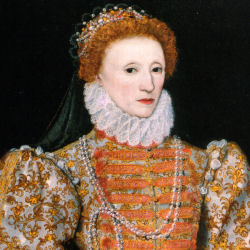 Elizabeth was born 7th September 1533 and died 24th March 1603. She was the only child of King Henry VIII and Anne Boleyn. Elizabeth was a great scholar and had a love of learning. She could speak many languages and spent much of her education translating old manuscripts.
Her mother was executed for treason when Elizabeth was a toddler and she spent much of her childhood and youth at Hatfield House. She was cared for by her half-sister, Mary, her nursemaids and tutors and saw little of her brother Edward who was raised in his own household. Elizabeth was a Protestant and when her half-sister Mary, who was a Catholic, became queen, Elizabeth was sent to the Tower of London. Mary feared that she would be a focus for a Protestant uprising. 
After Mary's death Elizabeth became Queen and restored Protestantism. Many Catholics believed that her cousin, Mary Queen of Scots should be Queen of England and Scotland as they did not recognise the legitimacy of Henry VIII's marriage to Anne Boleyn.
Elizabeth took the decision not to marry and ruled England for 44 years. She was ever fearful of being removed from the throne by plots or assassination and chose instead to have paintings made to show herself to the public. In 1587 she reluctantly gave the order for the execution of Mary Queen of Scots after a new plot was discovered. The following year Philip II sent the Spanish Armada to defeat England. However, a combination of luck and bad weather saw the Armada defeated.
 Family tree for Elizabeth showing:
parents
Published Jun 18, 2020 @ 5:14 pm – Updated – Nov 15, 2021 @ 11:06 pm
Harvard Reference for this page:
Heather Y Wheeler. (2020). Queen Elizabeth I 1533 – 1603. Available: https://www.treesofblue.com/queen-elizabeth-i-1533-1603. Last accessed November 24th, 2021