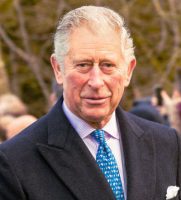 King Charles III Family Tree showing:
grandparents
parents
siblings 
partners 
children
Short Biography
Early Years
King Charles III was born Charles Philip Arthur George  on 14th November 1948 to Princess Elizabeth and Philip Mountbatten. At the time of his birth he was second in line to the throne, his mother being heir to King George VI.
When Charles was three years old his mother became Queen of England. From the time of her accession, Queen Elizabeth and Prince Philip spent months abroad on foreign tours. At the time royal children did not accompany their parents so Charles and his sister Anne, born 1950, spent long periods away from their parents.
At the age of nine years Charles was sent to Cheam Prep School in Berkshire and in 1962 to Gordonstoun School in Scotland. Charles was a quiet, shy child who had great trouble adjusting to boarding school life.
After leaving school, Prince Charles studied Anthropology, Archeology and History at Trinity College, Cambridge. After completing his degree, Charles joined the Royal Navy.
Relationships, Marriages and Children
As heir to the British throne, Charles was often dubbed the World's most eligible batchelor.
In 1971 he began a relationship with Camilla Shand. The two were close but the relationship ended after two years and she married Andrew Parker Bowles. However, they remained close friends.
Charles had relationships with a number women from noble families – Lady Jane Wellesley, Davina Sheffield, Amanda Knatchbull, Sabrina Guiness and Sarah Spencer.
In 1979, Charles was devastated by the assassination of his uncle, Lord Louis Mountbatten, and turned to Camilla Parker Bowles for support. The two remained close, but Charles was being pressured to marry.
In 1980 he met Diana Spencer at a barbecue and found her pleasant company. They married on 29th July 1981 and had two children, William born in 1982 and Harry born in 1984.
The marriage was not a happy one and by 1986 had broken down. Charles rekindled his relationship with Camilla Parker Bowles and Diana had an affair with James Hewitt.
Charles and Diana divorced in 1996. A year later Diana was killed in a car crash in Paris.
Charles married Camilla Parker Bowles, who had divorced in 1995, on 9th April 2005.
Heir to the throne
Charles became heir to the throne when his mother became Queen of England. As heir to the throne he was given the titles Duke of Cornwall, Duke of Rothesay, Earl of Carrick, Lord of the Isles and Baron Renfrew.
In 1969 Prince Charles was formally invested as Prince of Wales at Caernarvon Castle, Wales. He was also created Earl of Chester.
In 1976 Charles founded The Prince's Trust a charitable organisation that supports young people.
As heir to the throne, Charles supported his mother, making royal tours and representing the nation.
Charles is deeply concerned by the environment and has written several books on the subject. He is also a keen artist and enjoys spending time painting.
Prince Charles was present at the celebrations to mark the Queen's Silver, Gold, Diamond and Platinum Jubilees.
King of the United Kingdom and Head of the Commonwealth
Charles became King of the United Kingdom after the death of his mother on 8th September 2022. He also became Head of the Commonwealth.
First published 2018; updated and republished Sept 8 2022 @ 9:31 pm – Updated – Sep 21, 2022 @ 10:58 am
Harvard Reference for King Charles III Family Tree:
Heather Y Wheeler. (2018 – 2022). King Charles III Family Tree. Available: https://www.treesofblue.com/king-charles-iii-family-tree. Last accessed November 5th, 2023