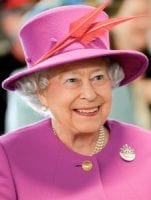 Family tree for Queen Elizabeth showing:
parents
siblings 
partners 
children
Short Biography
Early Years
Elizabeth Alexandra Mary was born on 21st April 1926 to Prince Albert, son of King George V, and Elizabeth Bowes Lyon. She was home educated with her sister Margaret Rose.
Heir to the Throne
In 1536 Elizabeth's grandfather, King George V, died and her uncle David became King Edward VIII. However, he abdicated the throne when the constitution would not allow him to marry Wallis Simpson. Elizabeth's father was next in line to the throne and became King George VI. With her father's accession, Princess Elizabeth became heir to the throne.
Marriage and Family
Princess Elizabeth married Prince Philip of Greece in 1947. The couple have four children: Charles born in 1948, Anne born 1950, Andrew born in 1960 and Edward in 1965. At the time of writing (2021) Elizabeth has eight grandchildren and nine great-grandchildren.
The Queen and Prince Philip celebrated their platinum wedding anniversary in 2017. Both Elizabeth and her husband have enjoyed good health throughout their lives.
Queen Elizabeth II
Elizabeth had recently embarked on a tour of the Commonwealth when she learned of her father's death in February 1952. She chose the regnal name Elizabeth and also decided to maintain the name Windsor rather than take her husband's name, Mountbatten.
As part of her royal duties, Elizabeth meets with the Prime Minister on a weekly basis to discuss recent government business. To date she has seen 14 Prime Ministers, the first being Winston Churchill. During the coronavirus lockdown the weekly meetings have been via Zoom.
Jubilee Celebrations
In 2002 celebrations were held throughout the Commonwealth to mark the Queen's Golden Jubilee. Elizabeth and Philip made a tour of a number of countries to mark the event. Ten years later in 2012 she celebrated her Diamond Jubilee. She and Philip made a tour of England, Scotland, Wales and Northern Ireland while her children and grandchildren made tours of Commonwealth countries.
Published Jul 17, 2018 @ 3:27 pm – Updated – Mar 20, 2021 @ 3:03 pm
Harvard Reference for this page::
Heather Y Wheeler. (2020 – 2021). Queen Elizabeth II b. 1926. Available: https://www.treesofblue.com/queen-elizabeth-ii-b-1926. Last accessed September 29th, 2021