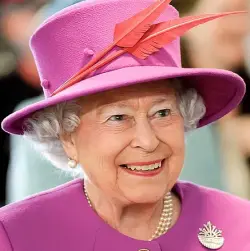 Queen Elizabeth II Family Tree showing:
parents
siblings 
partners 
children
Short Biography
Early Years
Elizabeth Alexandra Mary was born on 21st April 1926 to Prince Albert, son of King George V, and Elizabeth Bowes Lyon at Bruton Street, London. Elizabeth's sister, Margaret Rose was born in 1930.
Princess Elizabeth was home educated by her governess Marion Crawford.
In 1932 the family moved to the Royal Lodge in Windsor Great Park. 
Heir to the Throne
In 1936 Elizabeth's grandfather, King George V, died and her uncle David succeeded as King Edward VIII. However, he abdicated the throne when the constitution would not allow him to marry Wallis Simpson.
Elizabeth's father was next in line to the throne and reluctantly took the throne as King George VI. With the accession of Elizabeth's father, the family moved to Buckingham Palace.
Princess Elizabeth, as the eldest child of the King, became heir to the throne. As she would be the next monarch, Elizabeth needed a more thorough education and Henry Marten of Eton College was hired.
In 1937 the 1st Buckingham Palace Girl Guide Company was formed so that the young Princess Elizabeth could become a Girl Guide.
Although it was suggested that the Royal family leave London and the two Princesses be sent to Canada for their safety, this was rejected by the King and Queen.
Elizabeth and her sister Margaret Rose spent most of the war years at Windsor.
In October, Princess Elizabeth made her first public broadcast. During BBC Children's Hour she spoke to those children that had been evacuated and were away from their families.
In 1945, when Elizabeth was 19 years old she joined the Auxilliary Territorial Servis (ATS) where she learned how to maintain vehicles. When the war in Europe ended on 8th May 1945, Elizabeth and her sister left the palace incognito and joined in the victory celebrations.
Marriage and Family
Princess Elizabeth first met Prince Philip of Greece when she was 13 years old and accompanied her father on a visit to Dartmouth Naval College. They began writing to each other.
Elizabeth and Philip became formally engaged on 10th July 1947. They married on 20th November of the same year at Westminster Abbey.
The couple had four children: Charles born in 1948, Anne born 1950, Andrew born in 1960 and Edward in 1965. At the time of writing (2021) Elizabeth has eight grandchildren and twelve great-grandchildren.
Queen Elizabeth II and Prince Philip celebrated their platinum wedding anniversary in 2017. Elizabeth and her husband enjoyed good health throughout their lives. Philip died on 9th April 2021 at the age of 99 years.
Queen Elizabeth II
Princess Elizabeth and Philip began a tour of the Commonwealth, but just a week after leaving the United Kingdom she received the news that her father had died on 6th February and that she was Queen. She chose the regnal name Elizabeth and also decided to maintain the name Windsor.
As part of her royal duties, Queen Elizabeth II meets with the Prime Minister on a weekly basis to discuss recent government business. To date she has seen 14 Prime Ministers, the first being Winston Churchill, the most recent Boris Johnson. During the coronavirus lockdown the weekly meetings have been via Zoom.
Key Events During the Reign of Queen Elizabeth II
1953 – Sir Edmund Hillary and Sherpa Tensing reached the summit of Mount Everest
1966 Aberfan Disaster – 116 children and 28 adults were killed when colliery waste slid down a hill and engulfed the local school
1971 – The currency of Britain was changed from pounds, shillings and pence to a new decimalised currency of pounds and pence.
1973 – Britain became a member of the European Economic Community
1977 – Silver Jubilee – celebrations were held throughout the Commonwealth to mark the Queen's Silver Jubilee.
1979 – Margaret Thatcher was elected Britain's first female Prime Minister.
1982 – The Falklands War – Britain went to war with Argentina after the Falklands Islands were invaded. Elizabeth's son, Andrew fought in the war.
1984 – The Miner's Strike – Coal Miners went on strike in protest at pit closures. The dispute lasted for 12 months.
2020 – The Coronavirus Covid-19 pandemic.
Annus Horribilis
In March 1992 Elizabeth's second son, Prince Andrew and his wife, Sarah Ferguson separated.
The following month her daughter, Princess Anne divorced her husband Captain Mark Phillips.
In June 1992 Andrew Morton's book 'Diana Her True Story' was published. The book threw a spotlight on the troubled marriage of Prince Charles and Diana Spencer and revealed Charles's affair with Camilla Parker Bowles.
In August photographs of Sarah Ferguson sunbathing topless with John Bryan were published in a national newspaper. The same month a transcript of intimate phone calls between Diana and James Gilbey were published.
The Royal family was being increasingly scrutinised by the press and questions were being asked about their value to the country. In response the Queen agreed to pay tax on her income and the money the Royal family received from the government would be reduced.
On 20th November 1992 a fire broke out at Windsor Castle and the property, said to be one of the Queen's favourites, was badly damaged.
On 24th November, the Queen referred to 1992 as an annus horribilis, during a speech at the Guildhall, London.
Jubilee Celebrations
In 2002 celebrations were held throughout the Commonwealth to mark the Queen's Golden Jubilee. Elizabeth and Philip made a tour of a number of countries to mark the event.
Ten years later in 2012 she celebrated her Diamond Jubilee. She and Philip made a tour of England, Scotland, Wales and Northern Ireland while her children and grandchildren made tours of Commonwealth countries.
In 2022 Queen Elizabeth II celebrated her Platinum Jubilee marking 70 years on the English throne.
Later Years
In 2019 the Royal family made headlines again. In January, the Queen's 97 year old husband, Prince Philip crashed into a car containing two women and a child.
November 2019 revealed the friendship between the Queen's son, Prince Andrew and convicted paedophile Jeffrey Epstein. Andrew chose to be interviewed by the BBC but his lack of empathy and failure to win the support of the people meant he had to withdraw from Royal duties. In 2021 Virginia Giuffre brought a case against Prince Andrew for sexual assault. The case was settled out of court in Spring 2022.
In January 2020, the Queen's grandson, Prince Harry and his wife Meghan Markle announced that they would be stepping back from Royal duties. They moved to California.
From early 2020, Queen Elizabeth II has spent much time away from Royal duties due to the global covid-19 pandemic. 
In June 2021, Elizabeth celebrated her Platinum Jubilee (70 years on the throne). She began to retire from public life as her son Prince Charles and grandson Prince William took over many of her royal duties.
Queen Elizabeth II died on 8th September 2022 at Balmoral Castle, Scotland. She was succeeded by her eldest son Charles.
First published 2018; updated and republished Sept 8 2022 @ 9:36 pm – Updated – Sep 20, 2022 @ 12:05 pm
Harvard Reference for Queen Elizabeth II Family Tree:
Heather Y Wheeler. (2020 – 2022). Queen Elizabeth II Family Tree. Available: https://www.treesofblue.com/queen-elizabeth-ii-family-tree. Last accessed September 7th, 2023