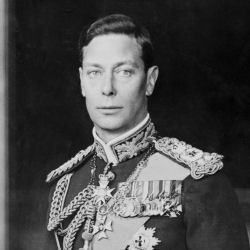 King George VI Family Tree showing:
parents
siblings 
partner 
children
Short Biography
Early Years and Education
King George VI was born Albert Frederick Arthur George to Prince George, son of Edward VII and Mary of Teck on 14th December 1895. He was the couple's second child, his elder brother Edward had been born in 1894. He was known as Bertie.
Bertie was a timid, shy child. He did not respond well to his very strict upbringing and developed a stammer.
In 1909 he became a naval cadet and two years later he entered the Royal Naval College at Dartmouth. He did not take part in World War One until the final year of the conflict. In 1914 he developed appendicitis and then suffered recurrent bouts of ill health.
After the war in 1919 he returned to Cambridge University for a year studying history and economics.
In 1920 he was created Duke of York.
Line of Succession
In 1901 George's great grandmother, Queen Victoria, died and his grandfather became King Edward VII and his father became Prince of Wales. When King Edward died in 1910, his father became King George V. Bertie's brother became Prince of Wales. When his father died in January 1936 his brother became King Edward VIII. However, he abdicated the throne when the constitution would not allow him to marry Wallis Simpson. Albert was next in line to the throne and reluctantly became King George VI.
Marriage and Family
Albert married Elizabeth Bowes-Lyon in 1923 in Westminster Abbey. She had turned him down twice accepting his third proposal. They had two daughters:
Elizabeth, known as Lilibet, born in 1926
Margaret Rose born in 1930
Speech Therapy
Prince Albert avoided having to make speeches wherever possible due to his stammer. After his marriage he made more royal tours and had to speak more frequently.
In 1925 he began speech therapy with Lionel Logue. The techniques he learned enabled him to be able to speak with less pronounced pauses.
King George VI
Albert was devastated by his brother's abdication and did not relish the prospect of becoming King. Nevertheless he put duty first and took the throne as King George VI. He was crowned in Westminster Abbey the following year.
When World War Two broke out in 1939, George and Elizabeth refused to leave London preferring to show solidarity with the people of London. During the Blitz two bombs fell in the courtyard of Buckingham Palace while the royal couple were in residence. Throughout the war George and Elizabeth were noted for their visits to places that had been bombed as well as munitions factories. King George also visited British troops abroad. On VE day the royal family appeared on the balcony of Buckingham Palace.
Later Years
After the war George's health began to deteriorate. In 1949 he had surgery for a blocked leg artery and two years later he was diagnosed with lung cancer. Although his left lung was removed in 1951 his health remained poor.
King George VI died on 6th February 1952. He was succeeded by his daughter, Elizabeth II.
Published Apr 13, 2021 @ 1:22 pm – Updated – Sep 20, 2022 @ 12:05 pm
Harvard Reference for King George VI Family Tree:
Heather Y Wheeler. (2021 – 2022). King George VI Family Tree 1895-1952. Available: https://www.treesofblue.com/king-george-vi-1895-1952. Last accessed September 6th, 2023