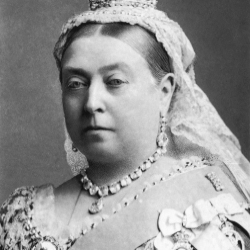 Queen Victoria Family Tree showing:
parents
siblings 
partner 
children 
Short Biography
Early Years
Queen Victoria was born Alexandrina Victoria to Prince Edward, Duke of Kent and Princess Victoria of Saxe-Saalfeld-Coburg at Kensington Palace, London. At the time of her birth, she was fifth in line to the throne, after her father and her three uncles.
Victoria was educated by private tutors at home. Her mother was very strict and kept her young daughter isolated from other people. Her mother wanted to keep Victoria wholly dependent on her and her comptroller Sir John Conroy.
As she grew older Conroy and her mother sought to control her even more. They continually pressured the young princess to appoint Conroy as her private secretary but she continually refused.
Path to the Throne
At the time of her birth Victoria was fifth in line to the throne. Her father died in January 1820, six days before the death of King George III. Victoria's uncle George became King George IV and she became third in line to the throne.
In 1827 Victoria's uncle Frederick, Duke of York died and three years later King George IV passed away without issue. George's brother William succeeded as King William IV and Victoria became heir to the throne.
King William IV died without legitimate issue on 20th June 1837. Victoria had celebrated her 18th birthday in May 1837 which meant she could rule in her own right without a regent. One of her first acts as Queen was to ban John Conroy from her presence.
Early Reign
When Victoria became Queen she was very popular and over 400,000 people came to London to see her Coronation procession. However, her popularity very quickly declined.
Initially, the politically inexperienced Victoria relied heavily on the Whig Prime Minister, Lord Melbourne. As the monarch has to be politically neutral, many resented his influence on the young Queen and her reliance on his advice. When appearing in public bystanders often called her 'Mrs Melbourne'.
In 1839 Victoria responded to court gossip that suggested Lady Flora Hastings had become pregnant by Sir John Conroy. Seeing an opportunity to bring about Conroy's fall, Victoria insisted that Lady Flora be examined. The examination revealed that Lady Flora was a virgin and that the growth was a tumour. The press intimated that Victoria had fabricated the rumours.
The same year the Queen became embroiled in the 'Bedchamber Crisis'. Lord Melbourne had resigned over a political matter and the Tory Robert Peel was the natural choice to become Prime Minister. However, when Victoria refused to dismiss her Whig Ladies of the Bedchamber and have them replaced by the wives of Tory MPs Peel refused to form a government. Lord Melbourne duly returned as Prime Minister but Victoria was not forgiven for flouting convention. Some even claimed that she had refused on purpose to engineer Melbourne's return.
Marriage and Family
Queen Victoria had first been introduced to her cousin, Prince Albert, in 1836. They met again in October 1839 and Victoria proposed. The young couple married on 10th February 1840 in the Chapel Royal at St James's Palace.
The couple had nine children:
Victoria Adelaide Mary Louisa, born 21st November 1840, died 5th August 1901. She married Frederick Emperor of Germany and Prussia and was mother to 8 childeren including Kaiser Wilhelm II.
Albert Edward, born 9th November 1841, died 6th May 1910. Became King Edward VII after Victoria's death in January 1901. He married Princess Alexandra of Denmark and had 6 children including King George V.
Alice Maud Mary, born 25th April 1843, died 14th December 1878. Married Louis IV, Grand Duke of Hesse and they had 7 children including Alexandrovna of Russia, wife of Tsar Nicholas II.
Alfred Ernest Albert, Duke of Saxe-Coburg-Gotha, born 6th August 1844, died 30th July 1900. Married Grand Duchess Maria Alexandrovna of Russia, aunt of Tsar Nicholas II. The couple had 5 children.
Helena Augusta Victoria, born 25th May 1846, died 9th June 1923. married Prince Christian of Schleswig-Holstein and had 5 children.
Louise Caroline Alberta, born 18th March 1848, died 3rd December 1939. Married John Campbell Duke of Argyll and had no children.
Arthur William Patrick Albert, born 1st May 1850, died 16th January 1942. He married Princess Louise Margaret of Prussia and they had 3 children.
Leopold George Duncan Albert, Duke of Albany, born 7th April 1853, died 28th March 1884. He married Princess Helena of Waldeck and Pymont and had 2 children.
Beatrice Mary Victoria Feodore, born 14th April 1857 died 26th October 1944. She married Prince Henry of Battenberg and they had 4 children including Queen Victoria of Spain.
Sadly, Victoria's husband, Albert died on 14th December 1861 and she was heartbroken. Queen Victoria blamed her eldest son for causing his death by his scandalous behaviour. She wore black attire for the rest of her life and avoided public appearances whenever possible. She did, however, continue to deal with Royal paperwork and had weekly meetings with the Prime Minister.
Notable Events During Queen Victoria's Reign
1845 – Irish Potato Famine caused the deaths of around 1 million Irish people. About 1 million emigrated to America. The Whigs called for the repeal of the Corn Laws which kept the price of corn high and when the repeal passed Robert Peel resigned.
1848 – Louis Philippe, King of France was deposed by revolutionaries. The royal family feared the monarchy could fall in Britain and moved to Osborne House on the Isle of Wight.
1851 – Great Exhibition. The brainchild of Prince Albert, this exhibition was a celebration of arts and technology housed in the Crystal Palace.
1853 – Crimean War – war broke out in the Crimean region on 16th October 1853 between the Ottoman Empire and the Russian Empire. Britain, France and Austria supported the Turks and deployed troops. The war ended in victory for the allies on 30th March 1856.
1857 – Indian Rebellion – This led to the dissolution of the British East India Company and the incorporation of its possessions into the British Empire
1867 – Reform Act – this gave the vote to around 1 million working men.
1876 – The Royal Titles Act gave Victoria the title Empress of India.
1879 – Anglo-Zulu war fought in South Africa between the British and the Zulu kingdom resulted in the British partition of the Zulu kingdom.
1880 – First Boer War fought in South Africa over 3 months and 3 days, between Britain and the South African Republic saw the defeat of the British.
1899 – Second Boer War broke out on 11th October between the British and the South African Republic supported by the Orange Free State. The war ended in 1902 with British victory.
Later Years
After the death of her husband, Victoria had relied heavily on the support of John Brown, a Scottish manservant and the two became close friends. Rumours of a romantic relationship between them were unfounded. However, when Brown died in 1883, Victoria missed him terribly.
In 1887 Queen Victoria's Golden Jubilee was celebrated throughout the British Empire. The same year she appointed two Indian Muslims as waiters. In a very short time Abdul Karim had been promoted and was acting as her clerk and teaching her Urdu. Members of the Royal Family were shocked but he remained in her service until she died.
Victoria became the longest reigning monarch in British history on 23rd September 1896. The following year she celebrated 60 years on the throne . Her Diamond Jubilee took the form of a festival of the British Empire.
By the end of the century Victoria's health was failing and she died on 22nd January 1901. She was buried next to Prince Albert in the Royal Mausoleum, Frogmore, Windsor. She was succeeded by her eldest son, Albert Edward as King Edward VII.
Published Nov 01 , 2021 @ 6:15 pm – Updated – Sep 20, 2022 @ 12:08 pm
Harvard Reference for Queen Victoria Family Tree:
Heather Y Wheeler. (2021 – 2022). Queen Victoria Family Tree (1819-1901). Available: https://www.treesofblue.com/queen-victoria-family-tree-1819-1901. Last accessed September 8th, 2023