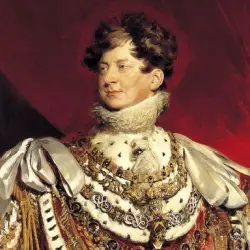 King George IV Family Tree showing:
parents
siblings 
partner 
child
Short Biography
Early Years
King George IV was born on 12th August 1762 to King George III and Charlotte of Mecklenburg-Strelitz at St James's Palace, London. He was the couple's first child and was heir to the throne.
George was schooled by private tutors. He was taught French, German and Italian in addition to academic subjects.
At the age of eighteen, George was given his own household. He spent his days drinking and partying. He had a number of affairs with actresses and married women.
In 1787, George commissioned John Nash to design a seaside retreat in Brighton. The Royal Pavilion was built in the style of an Indian Palace.
Marriage and Relationships
In 1783 George fell in love with Maria FitzHerbert, a twice-widowed Roman Catholic. In 1785 they secretly married. The marriage was deemed invalid since the King's permission had not been given and it was forbidden for members of the Royal Family to marry Roman Catholics. Nevertheless, he continued the relationship in secret.
By 1794, George was heavily in debt and asked his father for money to clear the debts. George III refused to clear the debt unless his son married Caroline of Brunswick. George reluctantly agreed to the marriage.
Prince George married Caroline of Brunswick in the Chapel Royal of St James's Palace, London on 8th April 1795. Although the couple disliked each other on sight they had no choice but to go through with the marriage.
As soon as Caroline became pregnant the couple began leading separate lives. Their daughter, Charlotte Augusta was born on 7th January 1796.
The couple did not resume living together, rather, George continued his life as he had before the marriage, taking a succession of mistresses. Caroline left England for Italy in 1814.
Madness of King George III
King George III suffered his first bout of mental instability in 1788. Ten years later the affliction recurred and was so bad that Queen Charlotte was frightened of her husband. In February 1789 Parliament passed the Regency Bill which declared the King's eldest son, Prince George to become Regent if the King's mental capacity was permanently reduced. However, the King recovered and the Bill was not enacted.
In 1804 the King suffered another brief period of mental instability. Six years later, there was a recurrence that would not respond to treatment and Prince George was declared Regent of Britain.
Regent and King of Britain
Despite being proclaimed Regent on 5th February 1811, George took no interest in the government of the country and left the business of running the country to Parliament.
George was devastated when his daughter and heir, Charlotte died in childbirth on 6th November 1817. He tried to persuade his wife to admit to committing adultery so he could gain a divorce and re-marry but she refused.
George became King George IV on 29th January 1820 after his father died. On hearing the news, George's wife, Caroline of Brunswick, travelled to Britain, determined to take up her position as Queen of Britain.
Although she was advised to stay away from the Coronation, Caroline tried to enter Westminster Abbey and made an awful scene. She died on 7th August 1821 from a bowel obstruction or cancer. George did not remarry and his brother William was heir to the throne.
Later Years
Much of King George IV's rule was taken up with the question of Catholic emancipation. Parliament were in favour of passing the Act but George refused his support. The Catholic Relief Act eventually became law on 13th April 1829.
In 1826 George asked his friend, John Nash to transform Buckingham House into a sumptuous palace. The design was drawn up and work began. However, George did not live to see the finished work. He died on 26th June 1830 at Windsor Castle. He was succeeded by his brother, William who became King William IV.
Published Nov 24 , 2021 @ 12:30 pm – Updated – Sep 20, 2022 @ 12:08 pm
Harvard Reference for King George IV Family Tree:
Heather Y Wheeler. (2021 – 2022). King George IV Family Tree (1762-1830). Available: https://www.treesofblue.com/king-george-iv-family-tree-1762-1830 Last accessed May 29th, 2023