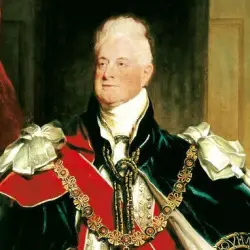 King William IV Family Tree showing:
parents
siblings 
partner 
children 
Short Biography
Early Years
King William IV was born on 21st August 1765 to King George III and Charlotte of Mecklenburg-Strelitz at Buckingham House, London. He was the couple's third son, his brothers George and Frederick had been born earlier. At the time of his birth he was third in line to the throne.
The young Prince William was schooled by private tutors at Richmond and Kew Palaces.
Madness of King George III
King George III suffered his first bout of mental instability in 1788. Ten years later the affliction recurred and was so bad that Queen Charlotte was frightened of her husband. In February 1789 Parliament passed the Regency Bill which declared the King's eldest son, Prince George to become Regent if the King's mental capacity was permanently reduced. However, the King recovered and the Bill was not enacted.
In 1804 the King suffered another brief period of mental instability. Six years later, there was a recurrence that would not respond to treatment and Prince George was declared Regent of Britain.
Naval Career
In 1778, at the age of 14 years, William joined the Royal Navy as a midshipman. Two years later he saw action in the Battle of Cape Vincent during the Anglo Spanish War and in 1781, during the American war of Independence he was stationed in New York.
William remained in the navy throughout the 1780s and rose to Lieutenant and then to Captain before being given command of HMS Andromeda. In 1789 he was promoted to Rear Admiral of HMS Valiant.
In May 1789 William was created Duke of Clarence and St Andrews as well as Earl of Munster. The following year he gave up active service in the navy.
When the War of the First Coalition began in 1793 William was disappointed that he was not given command of a ship. In 1798 he was made an admiral but still did not gain a command.
Marriage and Family
In 1791 William began a relationship with Dorothea Bland, an actress who was known as Mrs Jordan. During their 20-year relationship they had 10 illegitimate children, all of whom bore the surname FitzClarence.
By 1820 there was concern about the succession because neither William nor his elder brothers had legitimate children. Both George and Frederick had hated their wives and had separated from them. With no hope of reconciliation neither George nor Frederick were likely to have children. William was persuaded that he had to marry and have children.
In 1821 he ended his relationship with Mrs Jordan and began searching for a bride. He married Adeleide of Saxe-Meningen at Kew Palace, Surrey on 11th July 1818. On the same day his younger brother Edward married Victoria of Leiningen.
William and Adelaide had two children:
Charlotte Augusta Louise was born 27th March 1819 in Hanover, Germany, but she died soon after birth.
On 10th December Elizabeth Georgiana Adelaide was born at St George's Palace. She died on 4th March 1821.
The Regency
King George III died on 29th January 1820 and William's brother George became King George VI. William became second in line to the throne after his brother Frederick. When Frederick died in 1827, William became heir to the throne.
King William IV of Britain
King George IV died on 26th June 1830 and William succeeded as King William IV. Heir to the throne was Alexandrina Victoria, daughter of William's younger brother Edward who had died in 1820.
During William's reign the House of Commons passed the Third Reform Bill (7th June 1832) which sought to improve the lives of the people. This was closely followed by the Factory Act (1833) which regulated working hours and conditions for children and the Slavery Abolition Act (28th August 1833) which abolished slavery throughout the British Empire.
On 20th June 1837, King William IV died of heart failure at Windsor Castle. He was succeeded by his niece Alexandrina who took the throne as Queen Victoria.
Published Nov 15 , 2021 @ 7:26 pm – Updated – Sep 20, 2022 @ 12:08 pm
Harvard Reference for King William IV Family Tree:
Heather Y Wheeler. (2021 – 2022). King William IV Family Tree (1765-1837). Available: https://www.treesofblue.com/king-william-iv-family-tree-1765-1837. Last accessed November 8th, 2023