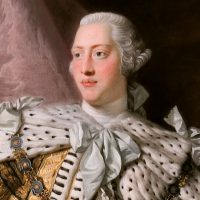 King George III Family Tree showing:
parents
siblings 
partner 
children
Short Biography
Early Years
King George III was born on 4th June 1738 to Frederick Louis, Prince of Wales and Augusta of Saxe-Gotha at Norfolk House, London. At the time of his birth, he was second in line to the throne after his father.
George began his education at the age of six years. He was educated with his brother Edward who was a year younger. The boys were schooled in Latin, French, history, music, geography, commerce, law, astronomy and science.
On 31st March 1751, George's father, Frederick Louis, died unexpectedly from a pulmonary embolism. The death of his father meant that George, aged 12 years, became heir to the throne.
King George II tried to gain influence on his grandson, but George's mother and new tutor, John Stuart, persuaded him to resist this and maintain his independence.
King of Britain
George became King George III on 25th October 1760 when his grandfather died. At the time of his accession the official royal residence was St James's Palace, however, George wanted an establishment with more privacy and purchased Buckingham House.
Marriage and Family
King George III married Charlotte of Mecklenburg-Strelitz at the Chapel Royal, St James's Palace on 8th September 1761. They were jointly crowned 13 days later.
They had fifteen children born between 1762 and 1783 including King George IV, King William IV and Edward Duke of Kent father of Queen Victoria.
Notable Events during the Reign of King George III
The Seven Years War – 1754 – 1763 (Britain gained possessions in North America and the Caribbean.
The passing of the Stamp Act 1765 – an act which imposed unpopular new taxes on British colonies in America.
Royal Marriages Act 1772 – this act, which is still in force today, requires members of the Royal Family to gain permission of the monarch to marry.
Boston Tea Party – 16th December 1773 – American colonists, angered by taxes payable on imported tea, threw a shipment of tea into Boston Harbour. They felt it was unfair to pay taxes to the British government when they had no representation in that government.
The Intolerable Acts 1774 – These were a series of Acts that increased British authority over the American colonists.
American War of Independence/ American Revolutionary War 1775 – 1783 – This hard-fought war, lost by the British, led to the independence of the 13 colonies of America and the establishment of the United States. King George III was so upset by the loss that he considered abdicating the throne.
French Revolution 1789 – 1799 – The events of the French Revolution, particularly the execution of King Louis XVI and Marie Antoinette, shocked the British Royal family and made them fearful that the same could happen in Britain.
War of the First Coalition 1793 – 1797 – France declared war on Britain and other European countries after they condemned the execution of Louis XVI.
War of the Second Coalition 1797 – 1802 – Britain allied with the Habsburgs in this further war against the French Republic.
Act of Union 1801 – This Act formally united England, Wales, Scotland and Ireland as the United Kingdom of Great Britain and Ireland.
War of the Third Coalition/ Napoleonic Wars 1803 – 1806 – War resumed with France amid fears that Napoleon Bonaparte would invade Britain. The Battle of Trafalgar 21st October 1805, occurred during this war.
War of the Third Coalition/ Napoleonic Wars 1806 – 1807 – Just months after the ending of the War of the Third Coalition, the war against Napoleon resumed.
The Peninsular War 1808 – 1814 – This was another conflict in the Napoleonic Wars that saw heavy British involvement. It saw Napoleon face his first major defeat.
Regency Act 1811 – This act passed most royal duties to Prince George as the King was deemed incapable of ruling.
Battle of Waterloo 1815 – This battle resulted in defeat for Napoleon. He was then imprisoned on the island of St Helena in the Atlantic island from which escape was impossible.
Madness of King George III
King George III suffered his first bout of mental instability in 1788. Ten years later the affliction recurred and was so bad that Queen Charlotte was frightened of her husband. In February 1789 Parliament passed the Regency Bill which declared the King's eldest son, Prince George to become Regent if the King's mental capacity was permanently reduced. However, the King recovered and the Bill was not enacted.
In 1804 the King suffered another brief period of mental instability. Six years later, there was a recurrence that would not respond to treatment and Prince George was declared Regent of Britain.
King George III died on 29th January 1820 at Windsor Castle. He was succeeded by the Prince Regent who took the throne as King George IV.
Published Dec 03 , 2021 @ 1:18 pm – Updated – May 8, 2023 @ 11:53 am
Harvard Reference for King George III Family Tree:
Heather Y Wheeler. (2021 – 2022). King George III Family Tree (1738-1820). Available: https://www.treesofblue.com/king-george-iii-family-tree-1738-1820 Last accessed November 6th, 2023