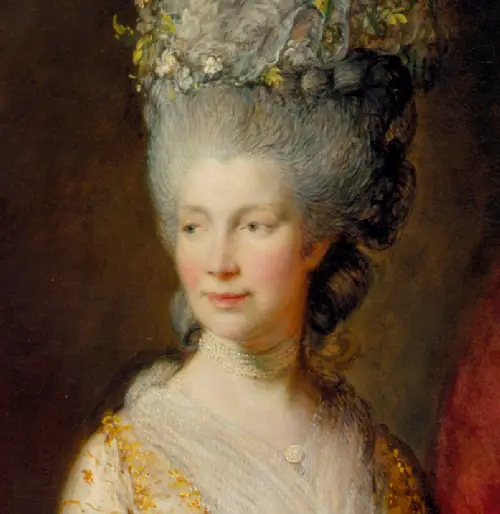 Queen Charlotte Family Tree showing:
parents
siblings 
partner 
children
Short Biography
Early Years
Queen Charlotte was born on May 19, 1744, in Mecklenburg-Strelitz, a small German principality. Her parents were Duke Charles Louis Frederick of Mecklenburg-Strelitz and Princess Elisabeth Albertine of Saxe-Hildburghausen. She was the couple's eighth child. 
Charlotte was not well-educated, her education was confined to those subjects considered appropriate for girls – needlework, dancing and household management. 
Her father died when she was eight years old and Charlotte's elder brother, Adolphus Friedrich became Duke. Her mother died on 29th June 1761. The following month it was agreed that Charlotte would marry King George III of Britain.
Marriage and Family
The wedding of King George III and Charlotte of Mecklenburg-Streilitz took place at the Chapel Royal, St James's Palace on 8th September 1761. The couple were crowned King George III and Queen consort at Westminster Abbey on 21st September 1761. 
The couple had not met before their marriage and communication was difficult at first because Charlotte did not speak any English. She began learning the language immediately. 
The couple had fifteen children:
George Augustus Frederick – born 12th August 1762
Frederick Augustus – born 16th August 1763
Miscarriage – 1764
William Henry – born 21st August 1765
Charlotte Austusta Matilda – born 29th September 1766
Edward Augustus – born 2nd November 1767
Augusta Sophia – born 8th November 1768
Elizabeth – born 22nd May 1770
Ernest Augustus – born 5th June 1771
Augustus Frederick – born 27th January 1773
Adolphus Frederick – born 24th February 1774
Mary born – 25th April 1776
Sophia Matilda born – 3rd November 1777
Octavius born – 23rd February 1779
Alfred – born 22nd September 1780
Amelia – born 7th August 1783
Interests
Queen Charlotte was known for her love of music and the arts. She was a talented musician herself, playing both the harpsichord and the piano, and she often hosted concerts at Buckingham Palace. In 1764 The young musical prodigy, Wolfgang Amadeus Mozart, and his family were summoned to court where Wolfgang played for the court.
She also supported a number of charitable causes, particularly those that focused on helping women and children. She was involved in the establishment of a number of hospitals, including the General Lying-in Hospital, which provided care for pregnant women and newborn babies. She was also a patron of a number of other organizations, including the British Red Cross Society and the Society for the Relief of the Industrious Poor.
The Madness of King George
King George III suffered his first bout of mental instability in 1788. Ten years later the affliction recurred and was so bad that Queen Charlotte was frightened of her husband. In February 1789 Parliament passed the Regency Bill which declared the King's eldest son, Prince George to become Regent if the King's mental capacity was permanently reduced. However, the King recovered and the Bill was not enacted.
In 1804 the King suffered another brief period of mental instability. Six years later, there was a recurrence that would not respond to treatment and Prince George was declared Regent of Britain.
Queen Charlotte remained a beloved figure in the British monarchy throughout her life. She passed away on November 17, 1818, at the age of 74. She is remembered for her support of the arts, her philanthropic work, and her devotion to her family.
Published May 8th , 2023 @ 11:47 am – Updated – May 8, 2023 @ 11:52 am
Harvard Reference for Queen Charlotte Family Tree:
Heather Y Wheeler. (2023). Queen Charlotte Family Tree (1744-1818). Available: https://www.treesofblue.com/queen-charlotte-family-tree-1744-1818 Last accessed November 6th, 2023