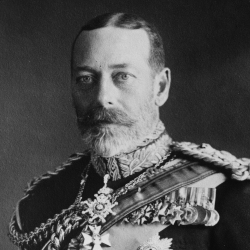 King George V Family Tree showing:
parents
siblings 
partner 
children 
Short Biography
Early Years and Education
King George V was born George Frederick Ernest Albert to Edward Prince of Wales and Alexandra of Denmark at Marlborough House, London on 3rd June 1865. He was the couple's second son, his brother Albert had been born in 1864.
George and his elder brother, Albert, were educated by a private tutor. In 1877 they both began naval training on board HMS Britannia at Dartmouth. Their tutor continued to give them lessons during this time.
After spending several years in the navy, George became a Personal Aide-de-Camp to Queen Victoria.
Marriage and Family
On 14th January 1892, George's brother Albert, died of pneumonia and George became second in line to the throne after his father.
In 1893 George married Princess Victoria Mary of Teck who had been engaged to his brother Albert. The couple made their home at Sandringham. They had six children including the future Kings Edward VIII and King George VI.
Heir to the Throne
When Queen Victoria died on 22nd January 1901, George's father became King Edward VII and George became heir to the throne. He was also created Duke of Cornwall and Rothesay.
As Prince and Princess of Wales, George and Mary made a number of overseas tours taking in countries of the British Empire.
King of Britain – House of Windsor
George became King George V of Britain and Emperor of India following the death of his father on 6th May 1910.
Four years later, World War One broke out after German troops invaded Belgium.
On 17th July 1917, amid strong anti-German feeling and fears that the monarchy would fall, George changed the Royal family name from Saxe-Coburg-Gotha to Windsor. For the same reason he declined a request from his cousin, Tsar Nicholas II of Russia, for sanctuary.
In 1922, with the Royal position secure, George sent a ship to rescue the Greek royal family. Among those rescued was the infant Prince Philip who would later marry Princess Elizabeth.
Later Years and Death
King George V was a heavy smoker and his health was not good. He was diagnosed with chronic obstructive airways disease in 1925. In 1928 he was taken ill with septicaemia.
In December 1932 George made the first Royal Christmas broadcast beginning a tradition that continues to this day.
King George's health continued to deteriorate but he remained a popular king and celebrated his silver jubilee in 1935. The same year he expressed his concern about his eldest son's behaviour and his suitability to be King. He also stated his belief that Edward would 'ruin himself within 12 months'.
King George V died on 20th January 1936 from the lung condition, pleurisy. His eldest son, Edward, succeeded as King Edward VIII.
Published Oct 23, 2021 @ 7:45 pm – Updated – Sep 20, 2022 @ 12:05 pm
Harvard Reference for King George V Family Tree:
Heather Y Wheeler. (2021 – 2022). King George V Family Tree (1865-1936). Available: https://www.treesofblue.com/king-george-v-family-tree-1865-1936. Last accessed September 6th, 2023