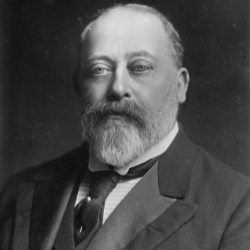 King Edward VII Family Tree showing:
parents
siblings 
partner 
children 
Short Biography
Early Years and Education
King Edward VII was born Albert Edward to Queen Victoria and Prince Albert at Buckingham Palace, London on 9th November 1841. He was the couple's second child, his sister Victoria had been born in 1840. He was known as Bertie by the family.
The young prince was created Duke of Cornwall and Rothesay, Earl of Carrick, Lord of the Isles and Baron Renfrew when he was born and Prince of Wales and Earl of Chester a month later.
Bertie's educational programme was drawn up by his father and delivered by private tutors. Unfortunately Bertie was not an academic and constantly fell short of his father's expectations.
In 1859 Bertie entered university but did not gain a degree. Many contemporaries state that the Prince found it easier to learn from people rather than study an academic curriculum. He is recorded as being a likeable, sociable young man with the ability to get on with people.
In November 1861 Bertie had a liaison with the actress Nellie Clifden. His parents were furious and despite being ill, Prince Albert travelled to Cambridge to reprimand his son. When Albert died of typhoid a month later, Bertie's mother, Queen Victoria blamed him for causing his father's death by putting him under too much stress.
Marriage and Family
Albert Edward proposed to Alexandra of Denmark on 9th September 1862 and the couple married six months later in St George's Chapel, Windsor. They lived at Marlborough House in London and Sandringham House in Norfolk.
The couple had six children – Albert, George, Louise, Victoria, Maud and Alexander. Alexander died shortly after birth and the eldest son, Albert died at the age of 28 years.
Scandalous Prince
Victoria and Albert had hoped marriage would make Bertie settle down and become devoted to his wife, children and royal duties. It did not. The prince continued to enjoy drinking, smoking, socialising and womanising.
After several brief affairs, Bertie began an affair with married actress Lillie Langtry in 1877. Two years later it was rumoured that the Prince would be cited in divorce proceedings brought about by Langtry's husband. Soon afterwards the affair ended when Lillie began an affair with the Earl of Shrewsbury.
Next came more affairs including another actress Sarah Bernhardt and Lady Randolph Churchill, mother of Winston Churchill.
Bertie met Allice Keppel in 1898 and they began an affair that would last the rest of the Prince's life.
King of Britain
Queen Victoria died on 22nd January 1901 and Bertie succeeded as King Edward VII. At the time of his accession, aged 60 years, he was the longest serving Prince of Wales in British history. Due to his lifestyle he gained the nickname 'Playboy King'.
Bertie underwent an operation to have his appendix removed in 1902 and five years later had treatment for a rodent ulcer.
Despite being in poor health King Edward made a number of overseas official visits. He was instrumental in securing the Entente Cordiale, a treaty of mutual assistance between France and Britain, in 1904.
In the Spring of 1910, Bertie developed bronchitis. On 6th May 1910 he suffered a heart attack and died soon afterwards. He is buried at Windsor Castle, London. King Edward VII was succeeded by his son George, who took the throne as King George V.
Published Oct 25, 2021 @ 8:05 pm – Updated – Sep 20, 2022 @ 12:07 pm
Harvard Reference for King Edward VII Family Tree:
Heather Y Wheeler. (2021-2022). King Edward VII Family Tree (1841-1910). Available: https://www.treesofblue.com/king-edward-vii-1841-1910. Last accessed September 6th, 2023