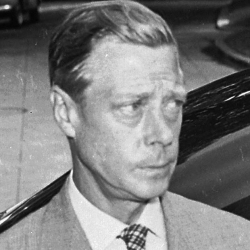 King Edward VIII Family Tree showing:
parents
siblings 
partner 
Short Biography
Early Years and Education
King Edward VIII was born Edward Albert Christian George Andrew Patrick David to Prince George and Mary of Teck on 23rd June 1894. He was the eldest of the couple's six children and was called David by the family.
Edward was first educated by a governess, Helen Bricka and from 1901 by Henry Hansell.
In 1907 he attended Osborne Naval College before transferring to the Royal Naval College at Dartmouth two years later. In 1910 he attended Magdalen College, Oxford but left in 1913 without gaining a degree.
Heir to the Throne and Succession
As the eldest son of the eldest grandson of Queen Victoria, Edward was prepared to be a future King from birth. When Queen Victoria died in January 1901, Edward became second in line to the throne.
Edward's father became King George V in May 1910 following the death of King Edward VII. With his father's succession, Edward, as heir to the throne, became Prince of Wales and Earl of Chester.
When King George V died on 20th January 1936, Edward became King Edward VIII.
Wallis Simpson
Edward was a charismatic popular young man and had a series of relationships throughout his teens and twenties. However, he showed little inclination to marry, preferring the company of married women.
In 1931 he met Wallis Simpson, a divorcee who had remarried shipping executive, Ernest Simpson. Wallis was a member of the same social set as Edward and the two met frequently. In 1934 the two began a relationship. Edward was besotted with Wallis and deeply in love.
After Edward became King Edward VIII he declared his intention to marry Simpson once she gained a divorce. However, the British government deemed this unconstitutional because as Head of the Church of England he could not marry a twice-divorced woman.
Abdication and Title
On 10th December 1936, Edward formally signed papers abdicating the throne if favour of his brother Albert. He made a statement stating that he could not be King without the woman he loved.
Edward's brother, now King George VI, gave his brother the title Duke of Windsor. He was allowed to retain the title HRH (His Royal Highness) but it would not be granted to his wife or descendants. Furthermore Edward was to live abroad and could only return to Britain by the invitation of the monarch.
Edward and Wallis were controversial figures before and during World War Two. In 1937, the now married couple visited Nazi Germany and met with Adolf Hitler. Rumours soon circulated that the Duke was a Nazi sympathiser.
In July 1940 it was discovered that the Nazis planned to kidnap Edward and, after defeating Britain, would put him on the throne as a puppet king. As soon as the plot was uncovered Edward was made Governor of the Bahamas and told to leave Europe immediately to take up the post.
Edward and Wallis remained in the Bahamas until the war ended.
Later Years
After the war ended, Edward and Wallis made their home in Paris. In 1952, Edward was allowed to attend the funeral of his brother, King George VI but Wallis was not invited. The couple were not invited to the coronation of Edward's niece, Queen Elizabeth II.
Edward died of cancer of the throat on 28th may 1972. His body was transported to Britain and buried in the royal burial ground at Frogmore, Windsor. Edward's wife, Wallis, Duchess of Windsor, was invited to attend the funeral.
Published Oct 20, 2021 @ 9:49 pm – Updated – Sep 20, 2022 @ 12:05 pm
Harvard Reference for King Edward VIII Family Tree:
Heather Y Wheeler. (2021 – 2022). King Edward VIII Family Tree (1894-1972). Available: https://www.treesofblue.com/king-edward-viii-family-tree-1894-1972. Last accessed September 6th, 2023