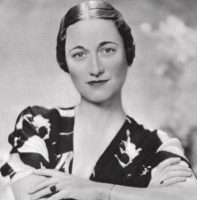 Family tree for Wallis Simpson showing:
parents
partners
Short Biography
Early Years
Wallis Simpson was born Bessie Wallis Warfield on 19th June 1896, to Teackle Wallis Warfield and Alice Montague in Pennsylvania, United States. She was called Wallis from a young age. She was the couple's only child, her father died when she was 5 months old.
Wallis lived with her mother and they were helped financially by family members. She attended Oldfields Girls' School in Maryland.
First Two Marriages
At the age of 20 years Wallis married Earl Winfield Spencer, a naval aviator. When her husband was posted to the Far East in 1922, Wallis remained in the United States and began an affair with Felipe de Espil.
In 1924 she decided to join her husband and sailed to China. While there she had an affair with Count Galeazzo and became pregnant. She had an abortion which left her unable to bear children.
When Wallis and Earl returned to the United States in 1925 they led separate lives and divorced two years later.
On 21st July 1928, Wallis married London shipping executive, Ernest Aldrich Simpson. They lived in Mayfair, London. Soon after her marriage she was introduced to Lady Furness, the mistress of Edward, Prince of Wales.
In 1931, Wallis Simpson was introduced to the Prince of Wales at a party hosted by Lady Furness. She and her husband had become members of high society and frequently met the Prince of Wales, Lady Furness and their circle of friends.
Wallis lost a good deal of money in the Wall Street crash of 1929 and neither she nor her husband could afford the life they led and were soon in debt.
Abdication Crisis
In January 1934, Wallis Simpson became the mistress of Edward Prince of Wales. They were frequently seen together and in 1935 holidayed together in Europe. Edward was besotted with Wallis and deeply in love.
King George V died on 20th January 1936 and Edward became King Edward VIII. He declared his intention to marry Wallis Simpson once she gained a divorce. However, the British government deemed this unconstitutional because as Head of the Church of England he could not marry a twice-divorced woman.
On 10th December 1936, Edward formally signed papers abdicating the throne in favour of his brother Albert who took the throne as King George VI. He made a statement stating that he could not be King without the woman he loved.
King George VI, gave his brother the title Duke of Windsor. He was allowed to retain the title HRH (His Royal Highness) but it would not be granted to his wife or descendants. Furthermore Edward was to live abroad and could only return to Britain by the invitation of the monarch.
Wallis Simpson and Edward were married on 3rd June 1937 at the Chateau de Cande, Tours, France. No members of the British royal family attended. After the marriage Wallis became Duchess of Windsor.
World War Two
Edward and Wallis were controversial figures before and during World War Two. In 1937, the now married couple visited Nazi Germany and met with Adolf Hitler. Rumours soon circulated that the Duke was a Nazi sympathiser.
In July 1940 it was discovered that the Nazis planned to kidnap Edward and, after defeating Britain, would put him on the throne as a puppet king. As soon as the plot was uncovered Edward was made Governor of the Bahamas and told to leave Europe immediately to take up the post.
Edward and Wallis remained in the Bahamas until the war ended.
Later Years
After the war ended, Wallis and Edward made their home in Paris. In 1952, Edward was allowed to attend the funeral of his brother, King George VI but Wallis was not invited. The couple were not invited to the coronation of Edward's niece, Queen Elizabeth II.
Edward died of cancer of the throat on 28th may 1972. His body was transported to Britain and buried in the royal burial ground at Frogmore, Windsor. Wallis was invited to attend the funeral.
In 1975 Wallis' health began to fail and she often became confused. She died on 24th April 1986 in the Bois de Boulogne. She was buried in St George's Chapel Windsor next to her husband.
Published June 14 2022 @ 8:10 pm – Updated – Sep 20, 2022 @ 12:10 pm
Harvard Reference for this page:
Heather Y Wheeler. (2022). Wallis Simpson Family Tree 1896-1986. Available: https://www.treesofblue.com/wallis-simpson-1896-1986. Last accessed November 6th, 2023