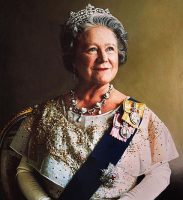 Family tree for Elizabeth Bowes-Lyon, wife of King George VI showing:
parents


siblings 


partner 


children

Short Biography
Early Years and Education
Elizabeth Bowes-Lyon was born Elizabeth Angela Marguerite Bowes-Lyon to Claude Bowes Lyon, Lord Glamis and Cecilia Cavendish-Bentinck on 4th August 1900. She was the couple's ninth child.
Elizabeth was educated at home by a governess before attending a private school in London. At the age of 12 years she transferred to the Misses Birtwistle's Academy.
In August 1914, World War One began and Elizabeth Bowes-Lyon returned to Scotland. Her family home, Glamis Castle, was used as a hospital tor convalescent servicemen and Elizabeth helped nurse the wounded soldiers.
Marriage and Family
In 1919, Elizabeth Bowes-Lyon was presented as a debutante. Two years later Prince Albert, second son of King George V, proposed marriage but she turned him down because she had no wish to become a member of the Royal Family.
In 1923, when he proposed for the third time, Elizabeth accepted Prince Albert's proposal. The two were married on 26th April 1923 at Westminster Abbey. Albert had been made Duke of York in 1920 and on her marriage Elizabeth became Duchess of York. The couple made their home at 17 Bruton Street, London.
They had two children:
Elizabeth Alexandra Mary born 21st April 1926
Margaret Rose born 21st August 1930, died 2002
Abdication Crisis
Albert's father, King George V died on 20th January 1936 and his brother David became King Edward VIII. However, he abdicated the throne on 11th December 1936 when the constitution would not allow him to marry American divorcee Wallis Simpson. Albert was next in line to the throne and reluctantly took the throne as King George VI. Elizabeth Bowes-Lyon was now Queen of Britain.
Elizabeth never forgave David for abdicating the throne and forcing Albert, who was ill-prepared for the role, to become King. As Prince, Albert had avoided making speeches because he had a bad stammer. After becoming King he could not avoid them.
In 1925 he began speech therapy with Lionel Logue. The techniques he learned enabled him to be able to speak with less pronounced pauses.
World War Two
When World War Two broke out in 1939, Elizabeth and King George refused to leave London preferring to show solidarity with the people of London. During the Blitz two bombs fell in the courtyard of Buckingham Palace while the royal couple were in residence. Throughout the war the King and Queen made frequent visits to places that had been bombed as well as munitions factories. King George also visited British troops abroad. On VE day the royal family appeared on the balcony of Buckingham Palace.
Queen Mother
In 1951, King George VI, a heavy smoker, was diagnosed with lung cancer. Although his left lung was removed his health remained poor. He died on 6th February 1952 and was succeeded by his daughter, Elizabeth II.
After her daughter's accession, Elizabeth Bowes-Lyon became known as Queen Mother. After spending time in Scotland mourning the loss of her husband she made her home at Clarence House in London.
When Queen Elizabeth II and her husband Philip, Duke of Edinburgh, were away on tours Elizabeth oversaw the care of her grandchildren:
Charles, born 1948, Anne, Born 1950, Andrew, born 1960 and Edward, born 1964.
Elizabeth Bowes-Lyon also had two grandchildren by her daughter Margaret and her husband Antony Armstrong-Jones:
David, born 1961 and Sarah, born 1964.
Later Years and Death
As Queen Mother, she also embarked on royal tours, travelling to overseas locations into her 60s.
On 4th August 2000, Elizabeth celebrated her 100th birthday. Later the same year she fell and broke her collarbone. Another fall the following year resulted in a fractured pelvis.
Elizabeth Bowes-Lyon died on 30th March 2002 at the Royal Lodge, Windsor Great Park. She was buried in St George's Chapel Windsor following a state funeral and service at Westminster Abbey.
Published May 19, 2022 @ 12:57 pm – Updated – Sep 20, 2022 @ 12:10 pm
Harvard Reference for this page:
Heather Y Wheeler. (2021). Elizabeth Bowes-Lyon Family Tree 1900-2002. Available: https://www.treesofblue.com/elizabeth-bowes-lyon-1900-2002. Last accessed September 7th, 2023