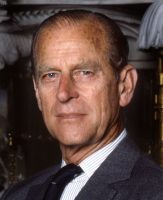 Family tree for Prince Philip showing:
parents
siblings 
partner
children
Short Biography
Early Years
Philip was born on 10th June 1921 to Prince Andrew of Greece and Alice of Battenberg. He was the couple's fifth and youngest child. In December 1922 there was a revolution in Greece and the royal family were exiled to France.
At the age of 7 years, Philip was sent to England to attend school. By the age of 12 he had little contact with his father and no contact with his mother who had been admitted to a sanitorium. He attended Gordonstoun School as a boarder and spent holidays with his uncle Georgie. After the death of his uncle Georgie he was placed in the care of Richard (Dickie) Mountbatten.
Princess Elizabeth
In 1938 Prince Philip became a naval cadet and a year later met Princess Elizabeth for the first time when the Royal family made a tour of the Naval College at Dartmouth. He and Elizabeth began to write to each other.
Philip saw action during World War Two and achieved the rank of First Lieutenant. When he returned to England he stayed at Kensington palace. He became engaged to Princess Elizabeth in 1947, having renounced his Greek nationality and become a British subject. The couple married in November 1947 and the following year their son Charles was born. A daughter, Anne, followed in 1950.
Early Years as Consort
In 1952, Prince Philip and Elizabeth were on tour in Kenya when they learned that George VI had died and Elizabeth was Queen. Philip was now consort to the Queen and initially found taking second place to his wife difficult.
In 1956 he undertook a solo tour of the commonwealth and opened the Melbourne Olympics. On his return he founded the Duke of Edinburgh award scheme for young people.
In 1960 the couple's third child, Andrew, was born. He was followed by Edward in 1964.
Later Years
Prince Philip remained by his wife's side accompanying her on official tours, receptions and royal functions throughout his life. He has also carried out solo duties as well as being patron of numerous charities.
The Duke of Edinburgh enjoyed good health throughout his life and continued to serve as a working royal until the age of 96 years when he retired from public engagements.
The following year he was hospitalised for hip replacement surgery which was successful. In 2021 he undertook heart surgery at St Bartholomew's hospital. Prince Philip, Duke of Edinburgh, died at Windsor Castle on 9th April 2021.
First published 2020; updated and republished May 16 2022 @ 2:56 pm – Updated – Sep 20, 2022 @ 12:10 pm
Harvard Reference for this page:
Heather Y Wheeler. (2020 – 2022). Prince Philip Duke of Edinburgh Family Tree 1921 – 2021. Available: https://www.treesofblue.com/prince-philip-duke-of-edinburgh-1921-2021. Last accessed November 16th, 2023