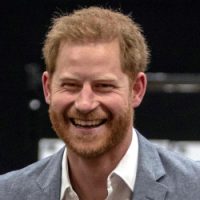 Family tree for Harry Duke of Sussex showing:
grandparents
parents
sibling
partner
children 
Short Biography
Early Years
Henry Charles Albert David was born on 16th September 1984 to Charles, Prince of Wales and Diana Princess of Wales at the Lindo Wing of St Mary's Hospital, London. At the time of his birth, Harry was third in line to the throne after his brother William and father Charles.
In 1987, Harry began his education at Mrs Mynor's Nursery school in London. He started school in 1989 and attended Wetherby Prep School, Kensington, London.
In a break with traditional royal protocol, Harry and his brother, William accompanied their parents on royal tours. Harry's mother, Diana, also tried to give the boys as natural a life as possible. A deal was made with the British press to afford them privacy until they reached the age of 18 years.
In 1992 Harry's parents separated and they divorced four years later. Harry's mother, Diana was dubbed 'the most photographed woman in the world' due to the relentless pursuance of the press.
On 31st August 1997, Diana was killed when the car she was travelling in crashed in a tunnel in Paris. Harry and his brother, William, walked in procession behind their mother's coffin on the day of the funeral. Harry later admitted that this left him traumatised and badly affected his mental health.
After graduating from Eton college with two A levels in 2004, Harry took a gap year and spent time in Australia and in Lesotho.
British Army
In May 2005, Harry attended the Royal Military Academy at Sandhurst and a year later took up a position as second lieutenant in the Blues and Royals. When his regiment left for active service in Iraq, he was devastated at not being allowed to join them due to his being a high risk target.
In 2008 Harry got his wish to see active service when he joined his regiment in Afghanistan. A media blackout was imposed so as not to put him or his regiment at more risk.
In 2014 he launched the Invictus Games, a sporting event for servicemen and women who had been injured in combat.
Harry continued to serve in the army and in 2011 was promoted to Captain. He left the armed services in 2015 to take up more royal duties on behalf of Queen Elizabeth II.
Marriage and Children
In June 2016 Harry met Meghan Markle, an American actress, in Toronto. Their relationship was officially announced in November 2016. They married on 19th May 2018 at St George's Chapel Windsor. On his marriage he was created Duke of Sussex, Earl of Dumbarton and Baron Kilkeel.
Harry and Meghan have two children: Archie Harrison, born 6th May 2019 and Lilibet Diana born 4th June 2021.
Move to California
Harry's wife, Meghan, attracted much media attention a lot of which was negative. Harry and Meghan believe this to be because Meghan has an African / American heritage.
In January 2020, Harry and Meghan announced that they would step back from being senior royals. They had hoped to continue with some light royal duties but this proved unworkable and they moved to California.
In March 2021 Harry and Meghan were interviewed by Oprah Winfrey. During the interview they made a number of claims against the Royal Family.
Harry returned to Britain in April 2021 to attend the funeral of his grandfather, Prince Philip.
In June 2022, Harry, Meghan and their children were in Britain to celebrate the Queen's Platinum Jubilee.
They returned to Britain in September 2022 to attend a number of charity events. A few days after their arrival, Harry's grandmother, Queen Elizabeth II, died. Harry and Meghan attended the funeral services held at Westminster and Windsor.
First published 2018; updated and republished Sept 21 2022 @ 10:54 am – Updated – Sep 21, 2022 @ 11:16 am
Harvard Reference for this page:
Heather Y Wheeler. (2018 – 2022). Prince Harry Duke of Sussex b 1984. Available: https://www.treesofblue.com/prince-harry-duke-of-sussex-1984. Last accessed November 10th, 2023