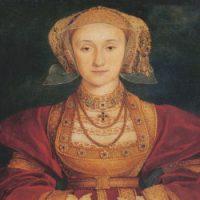 Anne of Cleves Family Tree showing:
parents
siblings
partner
Short Biography
Anne of Cleves was born 22nd September 1515 and died 3rd August 1557. She was the daughter of John III Duke of Cleves and Maria of Julich-Berg. 
After the death of Jane Seymour in 1537 Henry had little interest in re-marrying. Thomas Cromwell convinced Henry that he needed a Protestant ally in Europe and that marriage could be part of the deal. Anne of Cleves was chosen as a suitable bride and after much negotiation the treaty was signed. Anne Arrived in England in late December 1539. Eager to see his new bride, Henry VIII rode to Rochester on New Year's Day 1540. However, after meeting Anne he declared 'I like her not'. 
Anne married Henry VIII on 6th January 1540. The marriage was not consummated and Henry divorced Anne on 9th July. Anne agreed to the divorce and was granted properties and a generous annual pension. She was known as the King's sister and held high status at court.  
Published Jun 18, 2020 @ 2:20 pm – Updated – Sep 21, 2022 @ 12:50 pm
Harvard Reference for this page:
Heather Y Wheeler. (2020). Anne of Cleves Family Tree 1515 – 1557. Available: https://www.treesofblue.com/anne-of-cleves-1515-1557. Last accessed May 10th, 2023