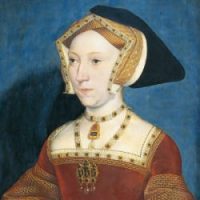 Jane Seymour Family Tree showing:
parents
siblings
partner
children
Short Biography
Jane Seymour was born around the year 1507 and died 24th October 1537. She was the daughter of John Seymour and Margery Wentworth. Jane was appointed a member of Anne Boleyn's household in 1533. 
Around November 1535 King Henry VIII began courting Jane Seymour. Her parents and brothers encouraged her to keep the King interested in her as it would help to advance the Seymour family. King Henry married Jane in 1536 after the execution of Anne Boleyn. 
Jane gave Henry the son he desired. Prince Edward was born on 12th October 1537 after a difficult labour, Jane died of puerperal fever twelve days later. 
Published Jun 18, 2020 @ 1:55 pm – Updated – Sep 21, 2022 @ 12:43 pm
Harvard Reference for this page:
Heather Y Wheeler. (2020). Jane Seymour Family Tree 1507 – 1537. Available: https://www.treesofblue.com/jane-seymour-1507-1537. Last accessed November 7th, 2023