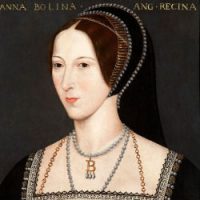 Anne Boleyn Family Tree showing:
parents
siblings
partner
children
Short Biography
Anne Boleyn was born around the year 1501 and was executed 19th May 1536. She was the daughter of Thomas Boleyn and Elizabeth Howard. Anne was well educated and spent time in the court of Margaret, regent of the Netherlands and the French court.
She returned to England in 1522 because her father was negotiating a marriage for her with James Butler, Earl of Ormond. When that fell through she was given a place in the household of Catherine of Aragon. Anne's sister Mary had been the mistress of King Henry VIII but Anne was determined not to follow suit. When Henry asked her to become his mistress she refused saying she would only surrender her virginity to the man she married.
King Henry VIII was so keen to marry her that he changed the religion of England to Anglicanism to do so. Anne and Henry were married in 1533 and in September their daughter, Elizabeth was born. Despite further pregnancies there were no more children. Henry began to doubt the validity of the marriage. Thomas Cromwell found evidence that she had been unfaithful with a number of men. She was found guilty of treason and executed by beheading on 19th May 1536.
Published Jun 18, 2020 @ 1:05 pm – Updated – Sep 21, 2022 @ 12:40 pm
Harvard Reference for this page:
Heather Y Wheeler. (2020). Anne Boleyn Family Tree 1501 – 1536. Available: https://www.treesofblue.com/anne-boleyn-1501-1536. Last accessed November 7th, 2023