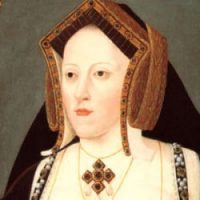 Catherine of Aragon Family Tree showing:
parents
siblings
partners
children
Short Biography
Catherine of Aragon was born 16th December 1485 and died 7th January 1536. She was the daughter  of Ferdinand of Aragon and Isabella of Spain. Catherine was betrothed to Prince Arthur, the eldest son of King Henry VII of England in 1497. The couple married in November 1501 but the marriage was short-lived. Arthur died from a viral infection in April 1502 leaving Catherine a widow. 
Her position in England was precarious. Her parents wanted her to marry Arthur's younger brother Prince Henry but King Henry VII refused to allow the marriage to go ahead without the payment of the second part of Catherine's dowry. The situation dragged on for 7 years with Catherine becoming increasingly impoverished. 
Henry became king after the death of his father in 1509 and he married Catherine the same year. Their first son, Henry, was born in 1511 but died six weeks later. A daughter, Mary, was born in 1516. In 1527, with no male heir, Henry decided to divorce Catherine and marry Anne Boleyn. When Catherine refused to agree to the divorce or enter a convent, Henry began the English Reformation that separated the Church of England from Rome. 
Catherine was banished to a series of remote and inhospitable castles and prevented from seeing her daughter as a punishment for refusing Henry his divorce. Henry married Anne Boleyn in January 1533 and Princess Mary was removed from the line of succession. Catherine's health began to fail and she died in January 1536.
Published Jun 18, 2020 @ 12:32 pm – Updated – Sep 21, 2022 @ 12:25 pm
Harvard Reference for Catherine of Aragon Family Tree:
Heather Y Wheeler. (2020). Catherine of Aragon Family Tree 1485 – 1536. Available: https://www.treesofblue.com/catherine-of-aragon-1485-1536. Last accessed November 8th, 2023