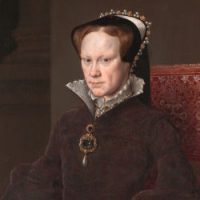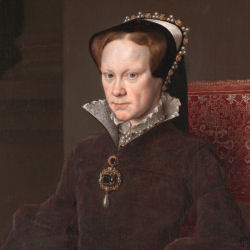 Mary was born 18th February 1516 and died 17th November 1558. She was the daughter of King Henry VIII and Catherine of Aragon. Unfortunately her parents had no more children. In desperate need of a male heir, Henry decided to divorce Catherine and marry Anne Boleyn. Catherine would not agree to a divorce and the Pope would not grant an annulment, so Henry began the English Reformation. Once he had broken the church from Rome he was able to divorce Catherine and marry Anne. Mary was declared illegitimate, removed from the succession and given the title Lady Mary. 
Anne Boleyn did not give Henry the son he desired. Their only child was Elizabeth. His third wife Jane Seymour gave birth to a son, Edward, Mary's half-brother but died soon after the birth. Henry married a further three times but had no more children.
After her father's death Edward ruled as Edward VI. However he died in 1553 and not wanting the Crown to pass to Catholic Mary, Lady Jane Grey was declared Queen. The people rose for Mary and she was declared Queen of England on 19th July 1553. Mary's decision to marry King Philip of Spain was not a popular one, especially as he wanted English troops to help in his war. Mary had two phantom pregnancies but produced no children and when she died her half-sister, Elizabeth became Queen.
 Family tree for Mary showing:
parents
siblings
partner
Published Jun 18, 2020 @ 4:43 pm – Updated – Nov 15, 2021 @ 11:06 pm
Harvard Reference for this page:
Heather Y Wheeler. (2020). Queen Mary I 1516 – 1558. Available: https://www.treesofblue.com/queen-mary-i-1516-1558. Last accessed January 22nd, 2022