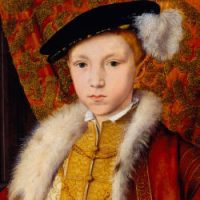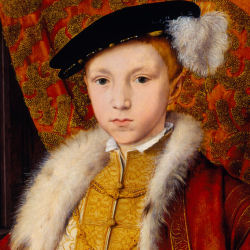 Edward was born 12th October 1537 and died 6th July 1553. He was the only child of King Henry VIII and Jane Seymour. Henry VIII was ever fearful that Edward would succumb to an illness and so he was brought up in his own household and had little contact with his half-siblings. 
When Henry VIII died, Edward became King Edward VI with his uncle, Edward Seymour as Lord Protector. Edward was a committed Protestant and introduced a new Book of Common Prayer. His uncle was overthrown by John Dudley in 1550. When Edward's health began to fail, Dudley married his son, Guildford, to Lady Jane Grey, Edward's second cousin. 
Edward and Dudley did not want Edward's Catholic half-sister, Mary, to succeed and so drew up a document known as the Devise for Succession which named Jane Grey as Edward successor. Edward died on 6th July 1553. He was succeeded by Jane Grey but after just 9 days as Queen she was overthrown by Mary who became Queen Mary I.
 Family tree for Edward showing:
parents
Published Jun 18, 2020 @ 5:50 pm – Updated – Sep 23, 2021 @ 2:34 pm
Harvard Reference for this page:
Heather Y Wheeler. (2020). King Edward VI 1537 – 1553. Available: https://www.treesofblue.com/king-edward-vi-1537-1553. Last accessed September 23rd, 2021