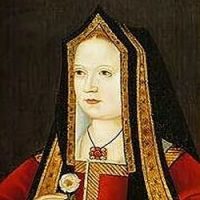 Elizabeth of York Family Tree showing:
parents
siblings
partner
children
Short Biography
Elizabeth of York was born 11th February 1466 and died 11th February 1503. She was the eldest daughter of King Edward IV and Elizabeth Woodville.
After her father's death in 1483, her brother became King Edward V. However, her uncle King Richard III took the throne and her brothers Edward and Richard disappeared. They are known as the Princes in the Tower.
Henry Tudor defeated Richard at the Battle of Bosworth Field beginning the Tudor dynasty. Elizabeth married Henry soon after he became King. She died of complications following the birth of her seventh child. 
Published May 28, 2020 @ 1:35 pm – Updated – Sep 21, 2022 @ 12:20 pm
Harvard Reference for Elizabeth of York Family Tree:
Heather Y Wheeler. (2020). Elizabeth of York Family Tree 1466-1503. Available: https://www.treesofblue.com/elizabeth-of-york-1466-1503. Last accessed June 6th, 2023