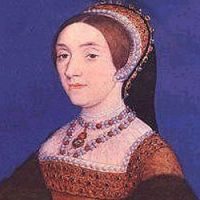 Kathryn Howard Family Tree showing:
parents
siblings
partner
Short Biography
Kathryn Howard was born around 1521 and died 13th February 1542. She was the daughter of Edmund Howard and Jocaster Culpeper and cousin of Anne Boleyn. After Kathryn's mother died when she was 7 years old and she was brought up in the household of the dowager Duchess of Norfolk.
While living in the Duchess's household, Kathryn had shared intimate moments with her music teacher, Henry Manox. She also became involved in a relationship with Francis Dereham, who was the dowager duchess's secretary.
In late 1539, Kathryn was chosen to be a member of the household of Anne of Cleves. She quickly attracted the attention of King Henry VIII and became his fifth wife after he divorced Anne of Cleves. Kathryn enjoyed the company of people her own age and by 1541 it was rumoured that she was involved in a relationship with Thomas Culpeper.
She was arrested on a charge of treason in November 1541 and was executed by beheading in February 1542. 
Published Jun 18, 2020 @ 3:20 pm – Updated – Sep 21, 2022 @ 12:57 pm
Harvard Reference for this page:
Heather Y Wheeler. (2020). Kathryn Howard Family Tree 1521 – 1542. Available: https://www.treesofblue.com/kathryn-howard-1521-1542. Last accessed November 15th, 2023