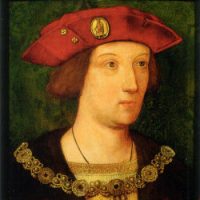 Arthur Tudor Family Tree showing:
parents
siblings
partner
Short Biography
Arthur was born 14th September 1486 and died 2nd April 1502. He was the son of King Henry VII and Elizabeth of York. As the eldest son of the monarch he was created Prince of Wales and heir to the throne.
At the age of 11 years he was betrothed to Catherine of Aragon, daughter of Ferdinand and Isabella of Spain. The young couple married in November 1501. After spending Christmas with the royal court in London it was agreed that they would make their home in the Welsh Marches.
They moved to their new home in the Spring of 1502. Soon afterwards they were both taken ill and Arthur died on 2nd April. 
Published May 28, 2020 @ 2:49 pm – Updated – Sep 21, 2022 @ 12:28 pm
Harvard Reference for Arthur Tudor Family Tree:
Heather Y Wheeler. (2020). Arthur Tudor Family Tree 1486-1502. Available: https://www.treesofblue.com/arthur-tudor-prince-of-wales-1486-1502. Last accessed November 18th, 2023