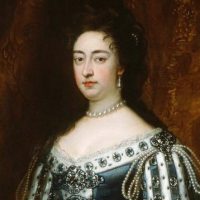 Queen Mary II Family Tree showing:
parents
siblings 
partner 
Short Biography
Early Years
Queen Mary II was born on 30th April 1662 to James, Duke of York and Anne Hyde at St James's Palace, London. She was the couple's second child, her elder brother, Charles had died before she was born. Her parents had six more children but only her sister, Anne survived past 4 years of age. Mary's father was heir to the throne since his brother, King Charles II had no surviving children.
When Mary was three years old, in July 1665, the Great Plague of London broke out and the Royal family left the city. They did not return until February 1666.
In September 1666 the Great Fire of London broke out and Mary's father was put in charge of stopping the fire. The fire destroyed a large part of the capital which had to be rebuilt.
Mary and her sister Anne were raised apart from their parents, as was the custom. They lived at Richmond Palace, London and cared for by their governess, Lady Frances Villiers and her husband Colonel Edward Villiers. They were educated by private tutors in music, dance, drawing, religion and French. On command of the King, they were raised as Anglicans.
In 1671 Mary's mother died of breast cancer. Her father, James Duke of York, remarried in 1673. His new wife, Catholic Mary of Modena was fourteen years old, just four years older than Anne. The marriage brought renewed concern for the succession and King Charles insisted that both Mary and Anne be married to Protestants.
Queen Mary II Marriage and Family
In 1677 the King decided that Mary should marry her Protestant cousin William of Orange. When she learned of her impending marriage, Mary burst into tears. She had no wish to marry her cousin but had little choice in the matter. When the couple married on 4th November 1677 at St James's Palace, Mary cried throughout the ceremony.
At the end of November 1677 Mary and her new husband left London for the Netherlands where they would make their home.
In the Spring of 1678 Mary suffered a miscarriage. She may have suffered further miscarriages but had no children. Mary was deeply upset that she was denied motherhood.
Path to the throne
At the time of her birth, Mary was second in line to the throne after her father.
On 6th February 1685 King Charles II died and Mary's father James became King James II of England and VII of Scotland. His succession meant Mary was heir to the throne.
On 10th June 1688, Mary's half-brother, James Francis Edward was born to King James II and Mary of Modena. His birth meant that Mary was second in line to the throne. However, the birth of James Francis Edward made it likely that Catholicism would return.
In November 1688, at the invitation of seven Protestant nobles, Mary's husband William of Orange invaded England. The invasion was unchallenged and James II was allowed to escape to France.
Mary refused to rule over her husband so it was agreed that they would rule as joint monarchs.
Queen of Britain
Mary travelled to England from the Netherlands in February 1689 and she and William were jointly crowned on 11th April 1689. The following day they were proclaimed King and Queen of Scotland.
Queen Mary II took little part in the rule of the country but when her husband left for Ireland she oversaw the government.
Jacobite Uprising in Scotland
Although William III and Mary II had been crowned King and Queen of Scotland, there were many Scots, particularly in the Highlands, that believed Mary's brother, James VII was still the rightful King of Scotland. Viscount Dundee raised an army against the rule of the new monarchs.
The Battle of Killiecrankie was fought between the Jacobites and the forces of William III. Although the Jacobites won the battle, Hugh Mackay was killed along with many Jacobites. Those Jacobites that survived the battle were unable to make further challenges against the rule of William and Mary.
Jacobite Uprising in Ireland
In the Spring of 1690, Mary's husband William went to Ireland to supress a new Jacobite rebellion. On 1st July 1690 the forces of William secured a decisive victory over the forces of James II at the Battle of the Boyne. Knowing he was beaten, James fled the battlefield and escaped to France.
Death and Succession
In December 1694, Queen Mary II Mary contracted smallpox. She died of the disease on 28th December. Her husband William III, succeeded as sole monarch of Britain.
Published Jan 15, 2022 @ 0:40 am – Updated – Sep 20, 2022 @ 12:10 pm
Harvard Reference for Queen Mary II Family Tree:
Heather Y Wheeler. (2022). Queen Mary II Family Tree (1662-1694). Available: https://www.treesofblue.com/queen-mary-ii-family-tree-1662-1694 Last accessed September 7th, 2023