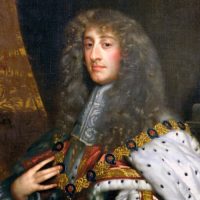 King James II Family Tree showing:
parents
siblings 
partners 
children 
Short Biography
Early Years
King James II was born on 14th October 1633 to King Charles I and Henrietta Maria of France. He was the couple's fourth child – his elder siblings were – Charles born and died in 1629, Charles born 1630 and Mary born 1631. As the second surviving son of the reigning monarch, he was styled Duke of York. James was privately tutored with his elder brother and heir to the throne, Charles.
During the early life of James and his siblings, his father, Charles I, was being increasingly challenged by Parliament. King Charles believed in the Divine Right of Kings – that he had been chosen by God to be king and could only be judged by God. Members of Parliament did not believe that the King should have absolute power and wanted him to cede more power to Parliament.
English Civil War
Matters came to a head on 22nd August 1642 when Charles I raised his standard at Nottingham, effectively declaring war on Parliament. Nine year old James was present at the Battle of Edgehill, the first major battle of the Civil War, and narrowly avoided being captured by the Parliamentary army. Fearful for his safety, James was sent to Oxford, the Royalist capital city during the war.
By 1645 it was obvious that the Royalists had lost the war and that Parliament were victorious. The Royal family evaded capture for eleven months when Oxford fell to the Parliamentarian siege. King Charles I managed to escape but James was captured and placed under house arrest at St James's Palace.
James's father, King Charles I, was tried for treason, found guilty and sentenced to death. He was beheaded on 30th January 1649 and two months later England was proclaimed a republic.
Interregnum
In 1651, James's brother, Charles, managed to escape imprisonment and travel to Normandy. Once there he worked to raise an army that would defeat Parliament and reinstate the monarchy. The following year James fled to France. Oliver Cromwell was declared Lord Protector of the new republican England in 1653. One of his first tasks was to make alliances with France and Holland to prevent James and his brother from gaining their support.
James's brother, Charles was able to gain the backing of Spain in return for English support against France once Charles had become King of England. James, and many other Royalists in exile, joined the Spanish army. In 1658 the Spanish lost the Battle of the Dunes against France. Nearly half of the English soldiers had been killed.
Restoration of the Monarchy
On 3rd September 1658, Oliver Cromwell, Lord Protector, died. He was succeeded by his son Richard. However, Richard Cromwell was not, like his father, a skilled administrator. Parliament removed him from power after just six months in office.
James's brother Charles was asked to return to England as King under the terms of the Declaration of Breda. He agreed to the terms which gave Parliament an increased role in the government of the country.
King Charles II was proclaimed King of England on 8th May 1660. James became heir to the throne.
Marriage and Family
On 3rd September 1660, James married Anne Hyde, the heavily pregnant daughter of Edward Hyde, chief minister. The couple had a total of eight children:
Charles Duke of Cambridge 22nd October 1660 – 5th May 1661
Queen Mary II – 30th April 1662 – 28th December 1694
James Duke of Cambridge – 11th July 1663 – 20th June 1667
Queen Anne – 6th February 1665 – 1st August 1714
Charles Duke of Kendal – 4th July 1666 – 22nd May 1667
Edgar Duke of Cambridge – 14th September 1667 – 8th June 1671
Henrietta 13th January 1669 – 15th November 1669
Catherine – 9th February 1671 – 5th December 1671
Anne Hyde died on 31st March 1671 at the age of 34 years from breast cancer.
On 20th September 1673, James married 15 year old Italian, Mary of Modena by Proxy in a Catholic ceremony. An Anglican ceremony was held two months later when she arrived in England
James and Mary had 7 children:
Isabella – 28th August 1676 – 2nd March 1681
Charles Duke of Cambridge – 7th November 1677 – 12th December 1677
Elizabeth – 1678 born and died
Charlotte Maria – 16th August 1682 – 16th October 1682
James Francis Edward – 10th June 1688 – 1st January 1766
Louisa Maria Teresa – 28th June 1692 – 18th April 1712
Heir to the Throne
Soon after his brother Charles's accession to the throne, James was created Lord High Admiral and Warden of the Cinque Ports. In this role he became involved in the Second Anglo-Dutch War that broke out in 1665.
The Treaty of Breda ended the war in 1667 when both sides agreed terms. England gained possession of the province of New Netherland in America and renamed the capital New Amsterdam to New York in recognition of the part played in the war by the Duke of York.
James also played a major part in the organisation of the response to the Great Fire of London in 1666. He took charge of the firefighting operation organising people and also authorising blowing up buildings to prevent the spread of the fire.
Catholicism
In 1668, James secretly converted to Catholicism. He continued to attend Anglican services and his daughters Mary and Anne were raised as Protestants. He managed to keep his religion secret until the introduction of the Test Act in 1673.
The Test Act stated that anyone who held a public office had to swear an oath of allegiance and could not be a Catholic. Rather than lie or openly declare his conversion, James chose to resign his position as Lord High Admiral.
By 1677 it was clear that James was likely to succeed as King of England since his brother Charles had no legitimate children. In an attempt to make the people more accepting of James as heir to the throne King Charles insisted that James's daughters Mary and Anne make Protestant marriages. Mary married her cousin William of Orange in 1677. Anne married George of Denmark in 1683.
In 1678 James was at the centre of controversy after an Anglican Bishop, Titus Oates, alleged that there was a Catholic plot to assassinate Charles and put Catholic James on the throne. The allegation sparked an outpouring of anti-Catholic demonstrations and the perpetrators of the rumour were executed. King Charles ordered James to leave the country until the situation had calmed.
In 1679, a number of MPs introduced an Exclusion Bill designed to exclude James from the succession. However, before the bill could become law, Charles dissolved parliament.
In 1683 the Rye House Plot was uncovered. This was a plot to assassinate James and King Charles while they were attending horse racing at Newmarket. The uncovering of the plot helped James to regain some popularity.
King of England and Scotland
On 6th February 1685, King Charles died and James succeeded as King James II of England, Ireland and Wales and James VII of Scotland. Although crowned King, there were still rebellions against his reign by those that wanted him replaced by Charles II's illegitimate son, James Duke of Monmouth. Those that had taken part in the Monmouth Rebellion were tried and around 300 were executed. A further 850 people were transported to the West Indies.
From the beginning of his reign, James flouted the Test Act and allowed Catholics to take positions of high office. Little action was taken because James was now in his fifties and, with no surviving male heir, the crown would pass to Charles II's Protestant daughter Mary. However things changed when on 10th June 1688 a son, James, Francis Edward was born to James II and Mary of Modena.
Glorious Revolution
The birth of James Francis Edward made it an almost certainty that Britain would return to Catholicism. Seven Protestant nobles wrote to William of Orange, husband of Charles II's daughter Mary, inviting him to invade and take the throne. He was reassured that he would have popular support for the move.
William of Orange landed at Brixham in Devon on 5th November 1688. Mary of Modena took the baby James Francis Edward and fled to France. James threw the Great Seal into the Thames and attempted to leave the country but was captured in Kent. William of Orange allowed James to go to France.
Parliament met and determined that by leaving the country, James II had given up all right to the throne and that William and Mary should jointly take the throne.
Later Years
James found much support in France and those supporters became known as Jacobites. He made several attempts to retake the throne but was never successful.
In 1697, William III agreed a peace with the French King Louis XIV which meant that James no longer had French backing.
In March 1701, James suffered a stroke that left him partially paralysed. He died of a brain haemorrhage at Saint-Germain-en-Laye on 16th September 1701.
Over the next 50 years, the Jacobites made several attempts to place firstly, James Francis Edward the his son Charles Edward on the throne but they were ultimately defeated.
Published Jan 31, 2022 @ 7:32 pm – Updated – Sep 16, 2022 @ 12:03 pm
Harvard Reference for King James II Family Tree:
Heather Y Wheeler. (2022). King James II Family Tree (1633-1701). Available: https://www.treesofblue.com/king-james-ii-family-tree-1633-1701 Last accessed November 7th, 2023