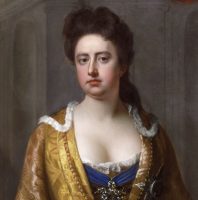 Queen Anne Family Tree showing:
parents
siblings 
partner 
children
Short Biography
Early Years
Queen Anne was born on 6th February 1665 to James, Duke of York and Anne Hyde at St James's Palace, London. She was the couple's fourth child, her two older brothers had died before she was born, her sister Mary had been born in 1662. Her parents had four more children but none survived past 4 years of age. Anne's father was heir to the throne since his brother, King Charles II had no surviving children.
When Anne was just six months old, in July 1665, the Great Plague of London broke out and the Royal family left the city. They did not return until February 1666.
In September 1666 the Great Fire of London broke out and Anne's father was put in charge of stopping the fire. The fire destroyed a large part of the capital which had to be rebuilt.
Anne and her sister Mary were raised apart from their parents, as was the custom. They lived at Richmond Palace, London and cared for by their governess, Lady Frances Villiers and her husband Colonel Edward Villiers. They were educated by private tutors in music, dance, drawing, religion and French. On command of the King, they were raised as Anglicans.
In 1669 Anne was sent to France to receive treatment for a visual problem. While there she lived with her paternal grandmother, Henrietta Maria of France. After her grandmother died, later that year, she lived with her aunt Henrietta Anne, Duchess of Orleans. When her aunt died the following year she returned to England. In 1671, Anne's mother died from breast cancer.
James Duke of York, remarried in 1673. His new wife, Catholic Mary of Modena was fourteen years old, just six years older than Anne. The marriage brought renewed concern for the succession and King Charles insisted that both Mary and Anne be married to Protestants.
Mary married her cousin William of Orange in 1677. Anne was unable to attend the wedding as she had contracted smallpox. Her governess Lady Frances Villiers caught the disease and died. Anne's aunt Henrietta Hyde was appointed as her new governess.
Queen Anne Marriage and Family
On 28th July 1683 Anne married her cousin, George of Denmark in the Chapel Royal of St James's Palace, London.
Anne became pregnant seventeen times between 1684 and 1700. Of those pregnancies, she miscarried seven times and gave birth to five stillborn children. Of the five children born all died before the age of eleven years:
Mary born 2nd June 1685 died of smallpox 8th February 1687
Anne Sophia born 12th Mary 1686 died of smallpox 2nd February 1687
William of Gloucester born 24th July 1689, died 30th July 1700, Physicians at the time could not agree on the cause of his death, but it is now thought to have been due to an acute bacterial infection.
Mary born prematurely on 14th October 1690, died the same day
George born 17th April 1692, died the same day.
Anne's husband George of Denmark died on 28th October 1708.
Path to the throne
At the time of her birth, Anne was third in line to the throne after her father and elder sister, Mary.
On 6th February Anne's father James became King James II of England and VII of Scotland. His succession meant Anne was second in line to the throne.
On 10th June 1688, Anne and Mary's half-brother, James Francis Edward was born to King James II and Mary of Modena. His birth meant that Anne was third in line to the throne. However, the birth of James Francis Edward made it likely that Catholicism would return.
In November 1688, at the invitation of seven Protestant nobles, Mary's husband William of Orange invaded England. The invasion was unchallenged and James II was allowed to escape to France.
William and Mary were jointly crowned on 11th April 1689. Mary died of smallpox in December 1694 and her husband William succeeded as sole monarch. Anne was now heir to the throne.
William died on 8th March 1702 from injuries sustained in a fall from his horse and Anne succeeded as Queen.
Sarah Churchill nee Jennings
Anne first met Sarah in 1671 after her return from France. Sarah's sister, Frances had been Maid of Honour to Anne's mother. Although Sarah was five years older, the two girls formed a friendship.
In 1673, Sarah Jennings was appointed Maid of Honour to Mary of Modena. Anne and Sarah became close friends. In 1677 Jennings married John Churchill. The marriage was kept secret until Sarah became pregnant in 1678, so that she could keep her position at court.
In 1684 Anne gave her friend the position of Lady of the Bedchamber. The appointment meant the two were in close contact every day and their friendship deepened.
After the Glorious Revolution of 1688 Anne's sister, Mary ruled jointly with her husband William. A rift soon developed between the sisters after Mary suspected John and Sarah Churchill of plotting with the Jacobites. Anne refused to dismiss Sarah but Mary had her removed by force.
After Anne became Queen in 1702 she appointed Sarah Mistress of the Robes and Keeper of the Privy Purse. Sarah's husband John Churchill was made Captain of the army and given the title Duke of Marlborough.
The relationship between the two women began to sour in 1705 after John Churchill put pressure on Queen Anne to appoint more Whig politicians. Anne became friends with one of her Women of the Bedchamber, Abigail Hill.
Sarah became jealous of the new friendship and further angered Anne when she publicly argued on the steps of St Paul's Cathedral. Sarah refused to give up the friendship and in January 1711, Queen Anne forced Sarah to resign all positions at court.
Notable Events During the Reign of Queen Anne
War of the Spanish Succession 1701 – 1714 – between Britain, Austria and the Dutch Republic against France.
Act of Union 1707 – This Act of Parliament formally united England, Wales and Scotland as Great Britain.
St Paul's Cathedral rebuilt 1711 – The cathedral, badly damaged in the Great Fire of London, had been redesigned by Christopher Wren.
Later Years and Death
Successive pregnancies had taken a toll on Anne's life. By the time of her accession she was overweight and suffering from gout. By 1713 she was unable to walk and had to be carried everywhere in a sedan chair.
On 30th July 1714, after months of ill health, Anne suffered a stroke. She died two days later on 1st August 1714.
She was succeeded by her Protestant second cousin, George, Elector of Hanover.
Published Jan 8, 2022 @ 2:45 pm – Updated – Sep 16, 2022 @ 12:04 pm
Harvard Reference for Queen Anne Family Tree:
Heather Y Wheeler. (2022). Queen Anne Family Tree (1665-1714). Available: https://www.treesofblue.com/queen-anne-family-tree-1665-1714 Last accessed November 6th, 2023