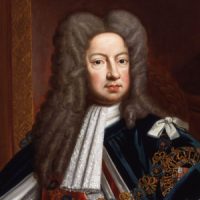 King George I Family Tree showing:
parents
siblings 
partner 
children
Short Biography
Early Years
King George I was born on 28th May 1660 to Ernest Augustus, Duke of Brunswick-Luneburg and Sophia of the Palatinate at Hanover. He was the couple's first child and was christened George Ludwig.
George was educated by a governess and was also schooled in horsemanship and military skills. At the age of fifteen, George accompanied his father on campaign during the Franco-Dutch War.
Marriage and Family
In 1682, George married his cousin Sophia Dorothea of Celle at Celle Castle Chapel, Germany. She was the daughter of George William, Duke of Brunswick and the marriage gave George a good income.
The couple had two children. A son, George Augustus was born in 1683 and a daughter, Sophia Dorothea was born in 1685.
The marriage was not a happy one and both George and his wife had extra-marital affairs. They divorced in 1694, Sophia was banished to the Castle of Ahlden and forbidden to remarry.
Path to the British throne
From the time of his birth, George was heir to the German lands of his father and three childless uncles.
In 1682, George's family agreed to the principle of Primogeniture (the eldest son is the only inheritor), this led to a rift between George and his brothers.
In 1698 Ernest Augustus died and George inherited his father's lands. He was titled Elector of Hanover.
On 30th July 1700 Prince William, Duke of Gloucester, son of Princess Anne of Britain, died. The Act of Settlement 1701 determined that only Protestants could inherit the throne, thereby eliminating the Catholic former King James II and his heirs from the succession. This meant that after Princess Anne, George's mother Sophia was next in line to the throne.
Anne succeeded to the throne in 1702 at the age of 37 years. Although she had been pregnant 17 times she had no living children. This made George's mother, Sophia, heir to the British throne. Both Sophia and George were created British subjects.
Sophia died on 28th May 1714 and George became heir to the British throne. Queen Anne died three months later on 1st August 1714 and George succeeded as King of Great Britain and Ireland. He was crowned on 20th October at Westminster Abbey.
Jacobite Rebellions
The Hanoverians had acceded to the throne because they were the nearest Protestant relatives to Queen Anne. However, many believed that the throne should pass to Anne's Catholic half brother, James Francis Stuart, son of King James II and Mary of Modena. They called themselves Jacobites.
The first rebellion took place in September 1715 when John Erskine, Earl of Mar raised the standard of James III of England VIII of Scotland. The Duke of Argyll was given charge of royalist forces. Unable to make significant gains, the rebellion failed.
In 1719, the Jacobites rose again but were quickly defeated at the Battle of Glenshiel.
The South Sea Company was founded in 1720 to deal with the debt caused by George's war with France. The new company took on three-fifths of the British National debt. The company then sought to generate income by trading in slaves.
Shares in the company rose at a phenomenal rate rising to over £1000. Many people decided to quit while ahead and sold their shares. This caused the price of the shares to fall drastically, within 3 months they had fallen to £150. Huge numbers of people lost money and laid the blame with the King and government.
Death and Succession
King George I died on 11th June 1727 in Hanover. He was succeeded by his eldest son who took the throne as King George II.
Published Dec 28, 2021 @ 1:15 pm – Updated – Sep 20, 2022 @ 12:09 pm
Harvard Reference for King George I Family Tree:
Heather Y Wheeler. (2021-2022). King George I Family Tree (1660-1727). Available: https://www.treesofblue.com/king-george-i-family-tree-1660-1727 Last accessed November 30th, 2023