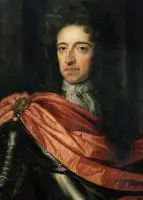 King William III Family Tree showing:
parents
partner 
Short Biography
Early Years
King William III was born on 4th November 1650, the son of William II of Orange and Mary Princess Royal, daughter of King Charles I, at the Hague, Netherlands. His father had died before his birth so he was styled Prince of Orange from birth. His mother, Mary acted as regent for him but she took little personal interest in her son.
William began his education in 1656 and followed a Protestant curriculum. At the age of 8 years, William transferred to the University of Leiden where he continued his education.
On 23rd December 1660 William's mother died of smallpox while paying a visit to her brother, King Charles II of England and Scotland. As per the terms of his mother's will, it was agreed that Charles II should take charge of his nephew's interests.
In 1665 the Second Anglo-Dutch war broke out souring relations between England and the Netherlands. A year later, William was made a ward of the States General in the Netherlands.
Path to the Throne
Although the House of Orange had been excluded from becoming a stadtholder, William's supporters pushed for him to gain the title. He was created Captain-General and First Noble in 1668.
In 1672 the Third Anglo-Dutch war broke out when France supported by England invaded the Netherlands. William was made stadtholder of Holland, Zeeland, Utrecht, Guelders, and Over Ijssel. Charles II pressed William to make peace but he refused. Instead he gained support from the Holy Roman Emperor and Spain and gradually forced the invaders to retreat. In 1674 peace with England was secured and relations between the two countries became closer.
William married his cousin, Mary, daughter of Charles II on 4th November 1677 at St James's Palace further strengthening relations between the two countries. Mary, who did not want to marry William, cried throughout the ceremony. After suffering a miscarriage in 1678, Mary never conceived again.
On 6th February 1685 King Charles II died and Mary's father James became King James II of England and VII of Scotland. His succession meant Mary was heir to the thrones of England and Scotland.
On 10th June 1688, a son, James Francis Edward was born to King James II and Mary of Modena. His birth made it likely that Catholicism would return to Britain.
In November 1688, at the invitation of seven Protestant nobles, William of Orange invaded England. The invasion was unchallenged and James II was allowed to escape to France.
Mary refused to rule over her husband so it was agreed that they would rule as joint monarchs.
William and Mary were jointly crowned King William III and Mary II of England on 11th April 1689. The following day they were proclaimed King and Queen of Scotland.
Jacobite Uprising in Scotland
Although William III and Mary II had been crowned King and Queen of Scotland, there were many Scots, particularly in the Highlands, that believed Mary's brother, James VII was still the rightful King of Scotland. Viscount Dundee raised an army against the rule of the new monarchs.
The Battle of Killiecrankie was fought between the Jacobites and the forces of William III. Although the Jacobites won the battle, Hugh Mackay was killed along with many Jacobites. Those Jacobites that survived the battle were unable to make further challenges against the rule of William and Mary.
Jacobite Uprising in Ireland
In the Spring of 1690, William went to Ireland to supress a new Jacobite rebellion. On 1st July 1690 the forces of William secured a decisive victory over the forces of James II at the Battle of the Boyne. Knowing he was beaten, James fled the battlefield and escaped to France.
Death and Succession
In December 1694, Queen Mary II Mary contracted smallpox. She died of the disease on 28th December. William III, succeeded as sole monarch of Britain until his own death on 8th March 1702. He was succeeded by his sister-in-law Queen Anne.
Published Jan 22, 2022 @ 4:56 pm – Updated – Sep 20, 2022 @ 12:09 pm
Harvard Reference for King William III Family Tree:
Heather Y Wheeler. (2022). King William III Family Tree (1650-1702). Available: https://www.treesofblue.com/king-william-iii-family-tree-1650-1702 Last accessed November 12th, 2023