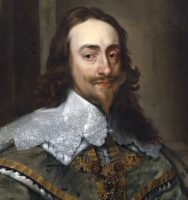 King Charles I Family Tree showing:
parents
siblings 
partner 
children 
Short Biography
Early Years
King Charles I was born on 19th November 1600 to King James VI of Scotland and Anne of Denmark. He was the couple's fourth child; Henry had been born in 1594, Elizabeth in 1596 and Margaret in 1598. James and Anne had a total of seven children but only three lived to adulthood.
On 24th March 1603, James VI of Scotland succeeded to the English throne following the death of Queen Elizabeth I. He was the first monarch to rule both countries. Soon after his accession Charles's father left Scotland for England leaving his wife and children in Scotland.
In the summer of 1603 Charles's mother and elder brother Henry left for England. Charles was left behind because he was considered too frail to make the journey. He remained in Scotland for a year in the care of Lord Fyvie of Dunfermline.
In August 1604 Charles finally joined his family in England. Sir Robert and Lady Carey were assigned to care for the four-year old Charles.
Charles, now Duke of York, began his education at the age of six years. He was tutored by Thomas Murray and was schooled in classics, languages, mathematics and religion.
On 6th November 1612, Charles's elder brother, Henry, died of typhoid and Charles became heir to the throne. He was formally invested as Prince of Wales in November 1616.
Marriage and Family
By 1623, Charles was under pressure to marry. Parliament wanted him to marry a Protestant to ensure that England remained Anglican. However, Charles travelled to Spain seeking a marriage with the daughter of Philip III, Maria Anna. The young lady rejected Charles's proposal and Philip III set terms that Charles was unable to meet.
Angered by the rejection, Charles sought a French bride and on 1st May 1625 Charles married Henrietta Maria of France. Parliament were unhappy that Charles had married a Catholic, but were appeased by an agreement that their children would be raised as Protestants.
Charles and Henrietta Maria had nine children:
Charles – born 1629 died the same year
King Charles II – born 1630, died 1685
Mary – born 1631, died 1660
King James II + VII – born 1633, died 1701
Elizabeth – born 1635, died 1650
Anne – born 1637, died 1640
Catherine – born 1639, died the same year
Henry – born 1640, died 1660
Henrietta – born 1644, died 1670
King Charles I and Parliament
Charles became King of England and Scotland on 27th March 1625 after his father died of a stroke. George Villiers, Duke of Buckingham, and favourite of James I, acted as advisor to the new King. However, Parliament resented the influence he had over Charles.
In 1626, Buckingham led a failed mission to Cadiz. It was also learned that he planned to support the French in supressing the Protestant Huguenot uprising. Parliament moved to have the Duke removed from office. Charles reacted by imprisoning two Members of Parliament that had spoken against his friend. When Parliament again called for Buckingham's removal, Charles dismissed Parliament. When Buckingham was stabbed to death in August 1628 Charles was distraught.
In 1628 Charles was forced to recall Parliament since he needed money for his war against Spain. In order to gain funding he was forced to sign the Petition of Right which declared that Parliament had to approve any new taxation. Soon afterwards, Charles dismissed Parliament and declared that he could impose any taxation he wished.
Throughout the 1630s, the conflict between Parliament and King Charles I continued. Charles I believed in the Divine Right of Kings – that he had been chosen by God to be king and could only be judged by God. Members of Parliament did not believe that the King should have absolute power and wanted him to cede more power to Parliament.
In 1632 Charles I made his friend Thomas Wentworth Lord Deputy of Ireland. The following year Charles appointed William Laud as Archbishop of Canterbury. Laud was known to lean towards the Catholic religion and was seen as a deliberate act against Parliament's wishes.
The following year Charles I declared that ship money, a tax traditionally paid by coastal towns in times of war, should be paid by the whole country. Those that refused to pay were imprisoned
In 1637 the King Angered the Scots by insisting that the Anglican Book of common Prayer be used in Scottish churches. It was widely resisted by the Scots who favoured the Presbyterian religion. In response, Charles sent the English army led by Thomas Wentworth, against Scotland but they were defeated and forced to retreat. In 1640 Wentworth, now Earl of Strafford was found guilty of treason and executed the following year.
Matters came to a head in 1642. Parliament believed that they, not the King, should be responsible for the defence of the country. The Militia Ordnance issued on 5th March gave control of the Militia to Parliament. Charles reacted by attempting to seize the arsenal at Hull.
The Nineteen Propositions issued on 1st June was a last ditch attempt by Parliament to settle the matter peacefully. The Propositions called for a new constitution that gave much more control to Parliament. Charles rejected the Propositions. 
In July 1642 Parliament began mustering an army and the navy declared against the King. On 22nd August 1642 King Charles I raised his standard at Nottingham, effectively declaring war on Parliament.
Although the Royalists had won some early battles in the English Civil War, by 1645 it was obvious that they had lost the war and that Parliament were victorious. The Royal family evaded capture for eleven months until Oxford, the Royalist capital, fell to the Parliamentarian siege. Although Charles had escaped he surrendered to the Scots on 5th May 1646.
Trial and Execution
On 30th January 1647, the Scots handed King Charles I to Parliament. He was imprisoned in Holdenby House, Northamptonshire before being moved to Hampton Court. In November Charles escaped and fled to Carisbrooke Castle on the Isle of Wight. Charles attempted to make a deal with Scotland, promising to make England Presbyterian in return for Scots support to regain his throne.
War broke out again in early February 1648. By the end of the year Parliament had defeated the Royalists. Oliver Cromwell leader of the army refused to negotiate any settlement with the King.
On 20th January 1649, King Charles I, was tried for treason, found guilty and sentenced to death. He was beheaded on 30th January 1649 and two months later England was proclaimed a republic.
Published Feb 04, 2022 @ 11:50 pm – Updated – Sep 16, 2022 @ 12:02 pm
Harvard Reference for King Charles I Family Tree:
Heather Y Wheeler. (2022). King Charles I Family Tree 1600-1649. Available: https://www.treesofblue.com/king-charles-i-family-tree-1600-1649 Last accessed November 6th, 2023