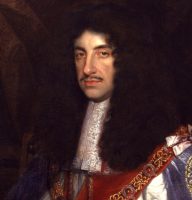 King Charles II Family Tree showing:
parents
siblings 
partner 
Short Biography
Early Years
King Charles II was born on 29th May 1630 to King Charles I and Henrietta Maria of France. He was the couple's second child, their firstborn, also named Charles was born and died in 1629. As the eldest surviving son of the reigning monarch, Charles was heir to the throne.
Charles and his younger brother James, born 1633, were privately tutored. They were given a military as well as academic education.
From the early 1630s, King Charles I, was being increasingly challenged by Parliament. Charles I believed in the Divine Right of Kings – that he had been chosen by God to be king and could only be judged by God. Members of Parliament did not believe that the King should have absolute power and wanted him to cede more power to Parliament.
Matters came to a head on 22nd August 1642 when Charles I raised his standard at Nottingham, effectively declaring war on Parliament. Twelve year old Charles and his younger brother James were present at the Battle of Edgehill, the first major battle of the Civil War.
Charles and his siblings were moved from London to the Royalist capital, Oxford for fear that they would be captured.
By 1645 it was obvious that the Royalists had lost the war and that Parliament were victorious. The Royal family evaded capture for eleven months until Oxford fell to the Parliamentarian siege.
Charles managed to escape to France where he urged King Louis XIV to support his father and provide support to restore him to the throne. When he was unsuccessful he tried to get support from his brother-in-law, William II of Orange. Although William offered support it was too late. The Royalist forces had been defeated.
In January 1649, King Charles I, was tried for treason, found guilty and sentenced to death. He was beheaded on 30th January 1649 and two months later England was proclaimed a republic.
Interregnum
Following his father's execution, the Scottish parliament immediately proclaimed Charles King Charles II of Scotland. However, the Scots would only agree to support Charles if he promised to make the whole of Britain Presbyterian once he became King. Charles reluctantly signed his assent.
In 1650, Oliver Cromwell invaded Scotland and after several defeats Charles fled to France. Once there he worked to raise an army that would defeat Parliament and reinstate the monarchy but found little support.
Restoration of the Monarchy
On 3rd September 1658, Oliver Cromwell, Lord Protector, died. He was succeeded by his son Richard. However, Richard Cromwell was not, like his father, a skilled administrator. Parliament removed him from power after just six months in office.
Charles was soon asked to return to England as King under the terms of the Declaration of Breda. He agreed to the terms which gave Parliament an increased role in the government of the country.
King Charles II was proclaimed King of England on 8th May 1660.
Marriage and Family
On 21st May 1662, James married Catherine of Braganza as part of a trade and mutual suppport treaty with Portugal. Charles was not at all interested in the marriage and took no part in the negotiations. Catherine of Braganza suffered a number of miscarriages and stillbirths but no live children were born to the couple.
Charles was known for his liaisons with a number of women before and after his marriage and had a total of fourteen illegitimate children:
by Lucy Walter
James Crofts, Duke of Monmouth (1649 – 1685)
by Elizabeth Killigrew
Charlotte Jemima Fitzroy (1650 – 1684)
by Catherine Pegge
Charles FitzCharles (1657 – 1680)
Catherine FitzCharles (b. 1658)
by Barbara Villiers
Anne Fitzroy (1661 – 1722)
Charles Fitzroy Duke of Southampton (1662 – 1730)
Henry Fitzroy Duke of Grafton (1663 – 1717)
Charlotte Fitzroy (1664 – 1717) George Fitzroy Duke of Northumberland (1665 – 1716)
by Nell Gwyn
Charles Beauclerk, Duke of St Albans (1670 – 1726)
James Lord Beauclerk (1671 – 1680)
by Louise Renée de Penancoet de Kérouaille
Charles Lennox Duke of Richmond (1672 – 1723)
by Moll Davis
Lady Mary Tudor, Countess of Derwentwater
King of Britain
One of King Charles II's first tasks as monarch was to reverse much of the Puritan legislation enacted by Cromwell. The theatres reopened and music and dancing were allowed again. This, as well as Charles's reputation for enjoying life, earned him the nickname 'The Merry Monarch'.
In 1665, England became embroiled in a trade war with the Dutch. The Treaty of Breda ended the war in 1667 when both sides agreed terms. England gained possession of the province of New Netherland in America and renamed the capital New Amsterdam to New York in recognition of the part played in the war by Charles's brother James Duke of York.
In 1665 an outbreak of plague broke out. It was the worst outbreak since the Black Death of 1348 and spread rapidly through the narrow streets of London. Thousands of deaths were recorded each week. Like many rich people, the Royal family left London until cases reduced in the winter.
The following year the city of London faced another catastrophe. On 2nd September 1666, a fire broke out in Pudding Lane. It spread rapidly destroying much of London. Charles's brother James was put in charge of the firefighting operation. St Paul's Cathedral was completely destroyed by the fire and King Charles II appointed architect Christopher Wren to redesign the building.
When Charles became King in 1660, the treasury was depleted due to the financial cost of the Civil War. The war with the Dutch would further drain the treasury. In 1662, Charles sold Dunkirk to King Louis XIV of France for around £375,000. Although the move was unpopular, the maintenance of Dunkirk was expensive and Charles needed the money.
In 1670, Charles made another agreement with Louis XIV. This time he agreed to supply Louis with English troops in return for a pension of £160,000 per year.
Global trade was a lucrative occupation and in 1672 the Royal African Company was granted a monopoly in the trading of African slaves for rum, tobacco, cotton and sugar in the new American colonies.
In 1670, the East India Company was granted the right to take land, mint money, command fortresses and make laws to protect their assets around the world.
The Succession
King Charles II and Catherine of Braganza had no children. This meant that Charles's brother James was heir to the throne. In 1668, James secretly converted to Catholicism. He continued to attend Anglican services and his daughters Mary and Anne were raised as Protestants. He managed to keep his religion secret until the introduction of the Test Act in 1673.
The Test Act stated that anyone who held a public office had to swear an oath of allegiance and could not be a Catholic. Rather than lie or openly declare his conversion, James chose to resign his position as Lord High Admiral.
By 1677 it was clear that James would almost certainly succeed as King of England In an attempt to make the people more accepting of James as heir to the throne King Charles insisted that James's daughters Mary and Anne make Protestant marriages. Mary married her cousin William of Orange in 1677. Anne married George of Denmark in 1683.
In 1678 James was at the centre of controversy after an Anglican Bishop, Titus Oates, alleged that there was a Catholic plot to assassinate Charles and put Catholic James on the throne. The allegation sparked an outpouring of anti-Catholic demonstrations and the perpetrators of the rumour were executed.
In 1679, a number of MPs introduced an Exclusion Bill designed to exclude James from the succession. However, before the bill could become law, Charles dissolved parliament.
In 1683 the Rye House Plot was uncovered. This was a plot to assassinate James and King Charles II while they were attending horse racing at Newmarket. The uncovering of the plot helped James to regain some popularity.
King Charles II died on 6th February 1685. He was succeeded by his brother James II.
Published Feb 03, 2022 @ 1:18 pm – Updated – Sep 16, 2022 @ 12:03 pm
Harvard Reference for King Charles II Family Tree:
Heather Y Wheeler. (2022). King Charles II Family Tree 1630-1685. Available: https://www.treesofblue.com/king-charles-ii-family-tree-1630-1685 Last accessed September 7th, 2023