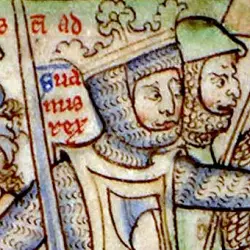 King Sweyn Forkbeard Family Tree showing:
parents


siblings


partners


children

Short Biography
Sweyn Forkbeard was born in 960 in Norway. He was the son of Harald Bluetooth and Gyrid Olafsdottir. Sweyn gained the nickname Forkbeard because he had a long forked beard. Throughout his childhood his father made a series raids on England but was unable to conquer the land.
In 985 Sweyn took over as leader of the Vikings, five years later he married Gunhilda, daughter of the Duke of Poland and they had five children including King Canute the great. He divorced Gunhilda around 1000 and married Sigrid. They had a daughter, Estrid.
As leader of the Vikings, Sweyn continued the raids on England. In 1002, King Aethelred ordered the massacre of all Danes living in Britain. Sweyn's sister was among those murdered.
Forkbeard was furious and swore revenge on England. He increased the raids on England and negotiated ever increasing payments of Danegeld from King Aethelred the Unready.
By December 1013 Sweyn had conquered most of England and proclaimed himself King. Aethelred and his family fled to Normandy. Sweyn's reign was short-lived as he died in February 1014.
After his death on 3rd February 1014, the throne returned to Aethelred the Unready because the nobility were unwilling to accept Sweyn's son, Canute. Aethelred died in 1016 and his son Edmund II became King. The same year Canute invaded and after Edmund died took the throne of England.
First published 2017; updated and republished Apr 10 2022 @ 9:58 am – Updated – Sep 16, 2022 @ 10:56 am
Harvard Reference for Sweyn Forkbeard Family Tree:
Heather Y Wheeler. (2017 – 2022). King Sweyn Forkbeard Family Tree (960-1014). Available: https://www.treesofblue.com/king-sweyn-forkbeard-960-1014. Last accessed November 7th, 2023