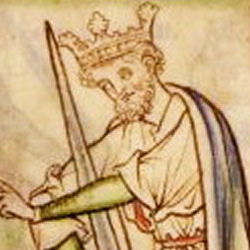 King Harold Harefoot Family Tree showing:
parents


siblings


partner


children

Short Biography
Early Life
Harold Harefoot was born in 1016 and died on 17th March 1040. He was the second son of King Canute the Great and Aelfgifu of Northampton, his brother Sweyn had been born in 1015.
Harold's father had successfully taken the English throne after conquering the country in 1016. Although Harold's mother was still alive, Canute married King Aethelred's widow, Emma of Normandy, to help gain the trust of the English people. When their first son, Harthacnut, was born Harold was displaced as heir to the throne.
When King Canute died on 12th November 1035, Harthacnut was declared King. However, he was in Denmark where he had been sent as regent for his father and due to a number of disturbances he was unable to return to England immediately.
Harold and Earl Godwin
In December 1035, Emma of Normandy's sons by her first marriage, Edward and Alfred arrived in England. Edward landed at Southampton and Alfred came ashore in Kent. It is believed they hoped to take the throne from the Danes and restore the house of Wessex.
Earl Godwin, the most powerful noble, who had allied himself with Harold Harefoot, met Alfred in Kent. He took him captive, blinded him and sent him to the monastery at Ely where he died of his injuries. Godwin would later claim that he was acting on Harold's instructions. On hearing of his brother's fate, Edward returned to Normandy.
King of England
Harthacnut was still in Denmark in 1037 and the Witan allowed Harold to take the throne.  Hardly any details of Harold's reign have been recorded.
It is known that King Harold I married a lady by the name of Aelfgifu, but no details survive as to her parentage or her dates of birth and marriage. Her name disappeared from the records after Harold's death.  They had a son, Aelfwine, who may have become a monk on the continent, but again no dates are recorded.
King Harold I died on 17th March 1040 at the age of 24 years. The cause of his death is not known. He was succeeded by his half-brother, Harthacnut. 
First published 2017; updated and re-published Jul 27 2020 @ 4:54 pm – Updated – Sep 16, 2022 @ 11:00 am
Harvard Reference for Harold Harefoot Family Tree:
Heather Y Wheeler. (2017 – 2022). King Harold Harefoot Family Tree 1016-1040. Available: https://www.treesofblue.com/king-harold-i-harefoot-1016-1040. Last accessed November 8th, 2023