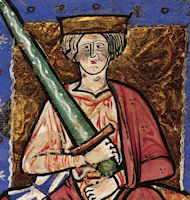 Family tree for King Aethelred the Unready, son of King Edgar showing:
parents
siblings
partners 
children 
Short Biography
Aethelred the Unready was born around 966 and died 23rd April 1016. He was the second son of King Edgar and his second wife Aelfthryth. His nickname 'unready' comes from the old English word meaning ill-advised. Aethelred had an elder brother Edmund who died in 970 at the age of 5 years, and an elder half-brother Edward who had been born in 962.
When Aethelred's father, King Edgar, died in July 975 the matter of the succession was put before the Witan (a council of senior earldorman). Aethelred and his brother Edward were minors and both had their supporters among the nobility. However, Edward had the support of the Archbishop of Canterbury and he was nominated King. Aethelred's mother was not at all happy with the decision and worked against Edward at every opportunity. On 18th March King Edward paid a visit to his half-brother and stepmother, Aelfthryth, at Corfe Castle. When he arrived he was stabbed to death by Aelfthryth's retainers.
Following his brother's death, Aethelred became King with his mother acting as regent. When he came of age he married Aelfgifu, daughter of the Earl of Northumbria and they had nine children including King Edmund Ironside. Aelfgifu died in 1002 and Aethelred married Emma of Normandy the same year. They had three children including King Edward the Confessor.
Throughout the 980s there were sporadic Viking raids on the south coast. After Sweyn Forkbeard became leader of the Vikings the raids became more frequent. Aethelred was unable to defeat them and was forced to pay repeated Danegeld payments to make them go away. On 13th November, St Brice's Day, Aethelred ordered the massacre of all Danes living in England. He wanted to prevent them from joining forces with Sweyn Forkbeard and overpowering the Anglo-Saxons and a large number were killed including Sweyn Forkbeard's sister. After the event the Viking raids intensified as Forkbeard sought revenge. Aethelred was still unable to defeat the Vikings and was forced to make more Danegeld payments. By 1012 the payments had increased to the extortionate sum of £48,000 (17 kg of silver). In December 1013, having conquered most of England, Sweyn declared himself King of England. Aethelred, Emma and their children fled to Normandy.
In February 1013, Forkbeard died. He nominated his son, Canute to succeed him but the English nobles did not support this choice and called for Aethelred to return as king. In August 1015 Canute invaded England with a large force determined to take the throne. He took Northumbria before marching towards London where he would be met by the forces of Edmund Ironside. Aethelred was now aged 50 years (an old age in Anglo-Saxon times) and died on 23rd April 1016. He was succeeded by his eldest son, Edmund Ironside.
First published 2017; re-published Jul 25 2020 @ 12:00 pm – Updated – Dec 28, 2021 @ 2:31 pm
Harvard Reference for this page:
Heather Y Wheeler. (2017 – 2020). King Aethelred the Unready 966 – 1016. Available: https://www.treesofblue.com/king-aethelred-the-unready-966-1016. Last accessed December 29th, 2021