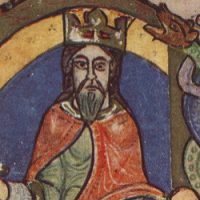 King David I Family Tree showing:
parents
siblings
partner
child
Short Biography
David was born in 1084 (exact date not known) the son of King Malcolm III of Scotland and Margaret, sister of Edgar Aetheling. He was the couple's youngest son and not expected to become king. He spent much of his youth at the English court of King Henry I who had married his sister Edith.
When King Malcolm III, died in 1093, his brother took the throne as King Donald III over Malcolm's sons. He ruled from 13th November 1093 to May 1094 when he was overthrown by Malcolm's son Duncan.
King Duncan II ruled for six months before he was killed at the Battle of Monthechin on 12th November 1094 by his uncle Donald .
Donald III returned to the throne and ruled jointly with his nephew Edmund, son of Malcolm III, brother of Duncan. In 1097 Edgar, third son of Malcolm III deposed Donald and Edmund. He had Donald blinded and Edmund fled to England where he became a monk.
Edgar ruled Scotland from October 1097 until his death on January 8th 1107. He was then succeeded by his younger brother Alexander who succeeded as King Alexander I.
By 1107, David had gained the right to rule Cumbria, Strathclyde and Lothian. In 1113, he married Maud of Huntingdon, daughter of Waltheof of Northumbria. They had four children, Henry, Malcolm, Claricia and Hodierna.
King Alexander I died in 1124 and David succeeded to the throne because his elder brothers had died earlier. He began the process of adding structure to government and the economy as well as improving Scotland's defences.
After the death of King Henry I of England, David supported the claim to the throne of Henry's daughter, Empress Matilda over that of King Stephen. His Scots army suffered a heavy defeat at the Battle of the Standard in 1138 and agreed a peace with King Stephen. Part of the agreement provided for David's son, Henry to become overlord of Northumberland.
Three years later David changed sides and returned his support to Matilda. Matilda's son Henry Plantagenet acknowledged David's claim to Northumberland.
King David I died on 24th May 1153 at Carlisle, Cumberland. He was succeeded by his grandson, Malcolm who took the throne as King Malcolm IV.
Firat published 2017; updated and republished Oct 3 2022 @ 10:17 am – Updated – Oct 3, 2022 @ 11:24 am
Harvard Reference for King David I Family Tree:
Heather Y Wheeler. (2017 – 2020). King David I Family Tree 1084-1153. Available: https://www.treesofblue.com/david-i-of-scotland-1084-1153. Last accessed May 31st, 2023