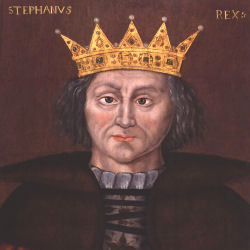 King Stephen Family Tree showing:
parents


siblings


partner


children

Short Biography
Early Life
King Stephen was born in 1097 the son of Adela of Blois, daughter of King William I and Stephen II, Count of Blois, France. His father died when he was 5 years old and his brother became Count of Blois.
Stephen was educated at home by a tutor and at the age of 10 years was sent to the court of his uncle, King Henry I of England and Normandy. He was knighted and given various titles while in the service of Henry I.
White Ship Disaster
The White Ship Disaster of 1120 was a devastating blow for the Norman court. On 25th November, a ship carrying a drunken party of three hundred noblemen, including William Aetheling, heir to the throne and his illegitimate brother Richard, sank when it hit a rock in the French harbour of Barflour. There was only one survivor, a butcher who was able to tell the tale of the disaster. Stephen's sister Lucia and her husband were among the dead. The disaster caused a succession crisis.
Marriage and Children
In 1125 Stephen married Matilda of Boulogne. The marriage was arranged by King Henry I and gave the Normans possession of Boulogne. The couple had five children: Baldwin who died in 1135, Matilda who died in 1141, Eustace, William and Marie. The latter three would all rule Boulogne.
King of England and Normandy
Stephen and the English nobility had sworn to support the succession of Henry I's daughter, Matilda, but the nobles did not really want Matilda as Queen. When Henry I died, Stephen immediately travelled to England where, with the support of his brother Henry, now Bishop of Winchester, he began to take power in England. On 22nd December, Stephen was crowned King of England in Westminster Abbey by the Archbishop of Canterbury.
Civil War
On 21st July 1136, Matilda's half-brother, Robert of Gloucester, rebelled against Stephen on Matilda's behalf and declared war beginning a period of civil war known as the Anarchy. Matilda arrived in England in 1139 and the fighting intensified. Stephen was captured at the Battle of Lincoln in 1141 and held prisoner. Stephen's brother, Henry, Bishop of Winchester, who had fallen out with his brother over the ruling of the country gave his support to Matilda. However, when Henry of Blois saw that London refused to support Matilda, he changed allegiance back to his brother.
While Stephen was in custody his wife, Matilda directed his military campaign. On 14th September 1141, Matilda's half-brother Robert of Gloucester was captured. Matilda was unable to continue the fight without her half-brother and refused to surrender to Stephen's wife. A compromise was agreed where Robert of Gloucester was swapped for King Stephen.
After the death of Robert of Gloucester in 1147, Matilda's son, Henry Plantagenet continued the fight in his mother's name. However, neither side made major gains and the war dragged on.
Death and Succession
The death of Stephen's son and heir, Eustace, in 1153 left the succession open for Henry Plantagenet.
King Stephen died on 25th October 1154 and was succeeded by Henry Plantagenet who became King Henry II.
First published 2018; Updated and re-published Dec 12  2021 @ 3:44 pm – Updated – Sep 16, 2022 @ 11:38 am
Harvard Reference for King Stephen Family Tree:
Heather Y Wheeler. (2018 – 2022). King Stephen Family Tree (1096-1154). Available: https://www.treesofblue.com/king-stephen-of-england-1096-1154. Last accessed November 7th, 2023