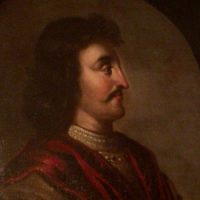 King Edgar of Scotland Family Tree showing:
parents
siblings
Short Biography
King Edgar was born in 1074, exact date not known, to King Malcolm III of Scotland and  his wife Margaret, sister of Edgar Aetheling.
When King Malcolm III, died in 1093, Edgar's uncle took the throne as King Donald III over Malcolm's sons. He ruled from 13th November 1093 to May 1094 when he was overthrown by Edgar's elder brother Duncan.
King Duncan II ruled for six months before he was killed at the Battle of Monthechin on 12th November 1094 by his uncle Donald. Donald III returned to the throne and ruled jointly with his nephew Edmund, son of Malcolm III, brother of Duncan.
In 1097 Edgar, third son of Malcolm III deposed Donald and Edmund. He had Donald blinded and Edmund fled to England where he became a monk. Edgar ruled Scotland from October 1097 until his death on January 8th 1107. King Edgar was succeeded by his brother Alexander.
First published 2017; updated and republished Oct 20 2022 @ 2:47 pm – Updated – Oct 20, 2022 @ 4:02 pm
Harvard Reference for this page:
Heather Y Wheeler. (2017 – 2022). King Edgar of Scotland Family Tree 1074-1107. Available: https://www.treesofblue.com/edgar-of-scotland-1074-1107. Last accessed September 7th, 2023