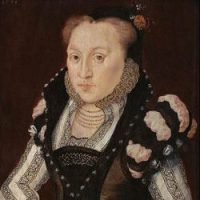 Lady Mary Grey Family Tree showing:
parents
siblings
partners
Short Biography
Lady Mary Grey was born in 1545, the exact date is not known and died 20th April 1578. She was the daughter of Frances Brandon and Henry Grey. Her mother, Frances, was the daughter of Henry VIII's younger sister Mary Tudor. After the death of King Edward VI, her sister, Jane became Queen of England for nine days, during a plot to exclude Catholic Mary I from the succession. The plot failed and Mary I was proclaimed Queen on 19th July. 
Katherine's sister, Jane and her father were executed in February 1554 after the failure of Thomas Wyatt's rebellion. In 1558 Mary became a Maid of Honour to Queen Elizabeth I.  In 1560, her sister Katherine secretly married Edward Seymour, Earl of Hertford, son of the disgraced Duke of Somerset. When Elizabeth found out about the marriage she was furious and sent Katherine and Edward to the Tower of London. Katherine had two sons before Elizabeth had the marriage annulled. Katherine spent the rest of her life under house arrest.
In 1565 Mary secretly married the Queen's Sergeant Porter Thomas Keyes. The Queen was furious and sent Keyes to Fleet prison. Mary was placed under house arrest. She never saw her husband again, he died shortly after being released from prison. Mary was eventually freed from house arrest in 1573 but as she had no money to support herself she was reliant on others. She died in 1578.
Published Jul 2, 2020 @ 5:18 pm – Updated – Sep 21, 2022 @ 11:49 am
Harvard Reference for this page:
Heather Y Wheeler. (2020). Lady Mary Grey Family Tree 1545 – 1578. Available: https://www.treesofblue.com/lady-mary-grey-1545-1578. Last accessed September 8th, 2023