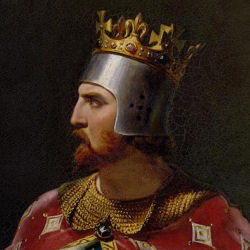 King Richard I Family Tree showing:
parents
siblings 
partner 
Short Biography
Early Years
King Richard I, known as the Lionheart, was born 8th September 1157 and died 6th April 1189. He was the third son of King Henry II of England and Eleanor of Aquitaine.
At the age of 13 years, Richard was given control of Aquitaine and spent most of his time administering his lands.
In 1173 he joined his mother, brothers and King Louis VII of France in a rebellion against his father. He was reunited with his father after Louis VII made peace and his mother was imprisoned.
King of England
Richard became King Richard I of England and Duke of Normandy when his father died on 6th July 1189. However, he had little interest in the government of the country and soon embarked on Crusade.
Military Leader
As a boy Richard had excelled in military pursuits and by the age of 16 had his own army which he used to put down rebellions in his lands. He gained the nickname Richard the Lionheart due to his bravery in battle. 
In 1190 he joined Phillip II of France on the Third Crusade. After conquering Cyprus they moved on to the Holy Land. Philip soon returned to France but Richard was determined to beat Saladin. Although he was unable to defeat Saladin he negotiated a truce that allowed Christians free access to Jerusalem.
On his return from Crusade he was captured and held to ransom by Duke Leopold V of Austria. The huge sum paid for his release was a drain on England's finances, but Richard returned to a warm welcome.
Marriage and Succession
Richard married Berengaria of Navarre on 12th May at St George's Chapel in Limassol, Cyprus. However, the two were not close and she is the only Queen of England to never set foot in the country. They had no children and when Richard died on 26th March 1199, his brother John became King.
First published 2018, updated and re-published Feb 20 2021 @ 1:23 pm – Updated – Sep 16, 2022 @ 11:39 am
Harvard Reference for King Richard I Family Tree:
Heather Y Wheeler. (2018 – 2022). King Richard I Family Tree (1157-1199). Available: https://www.treesofblue.com/king-richard-the-lionheart-1157-1199. Last accessed September 6th, 2023