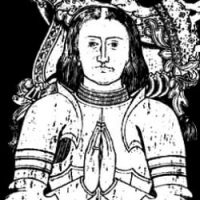 Edmund Tudor Family Tree showing:
parents
partner
child
Short Biography
Edmund was born 11th June 1430 and died 3rd November 1456. He was the son of Catherine of Valois, widow of King Henry V and Owen Tudor. He and his brother Jasper were half brothers to King Henry VI.
Margaret Beaufort was made their ward after her father died. Edmund subsequently married 12 year old Margaret. He and his brother supported Richard Duke of York after the King became mentally unstable during the Wars of the Roses.
In 1456 he was captured by forces loyal to the King and imprisoned. He died of bubonic plague while in prison before the birth of his son, Henry Tudor.
Published May 28, 2018 @ 9:08 pm – Updated – Sep 21, 2022 @ 12:13 pm
Harvard Reference for Edmund Tudor Family Tree:
Heather Y Wheeler. (2020). Edmund Tudor Family Tree 1430 – 1456. Available: https://www.treesofblue.com/edmund-tudor-1430-1456. Last accessed September 7th, 2023