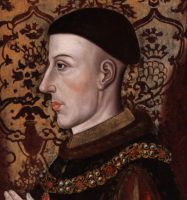 King Henry V Family Tree showing:
parents
siblings
partner
children
Short Biography
Early Years
King Henry V was born on 9th August 1387 to Henry Bolingbroke, Earl of Northampton and Mary de Bohun at Monmouth Castle. He was the grandson of John of Gaunt, son of Edward III. His father strongly opposed the rule of his cousin, Richard II.
When Henry was aged five years, his mother died in childbirth. He was likely educated as befitted the eldest son of a nobleman. He would have learned to read and write in addition to schooling in horsemanship and military skills.
In 1398, Henry's father was exiled after falling out with the King. Eleven-year old Henry was taking into King Richard's service and accompanied him to Ireland the following year.
On 3rd February 1399 John of Gaunt died and Henry's father inherited the Duchy of Lancaster and also the titles Earl of Leicester and Earl of Lincoln. However, because he had been exiled, King Richard seized the lands for himself. Bolingbroke was furious and, supported by Henry Percy and Thomas Arundel invaded England, captured the king, imprisoned him in Pontefract Castle and forced him to abdicate.
Heir to the Throne
After forcing Richard II to abdicate, Henry Bolingbroke took the throne as King henry IV. Henry was given the titles Prince of Wales, Duke of Cornwall, Earl of Chester and Prince of Aquitaine.
In the Spring of 1400 it was announced that Richard II had died. There is speculation as to whether he starved himself or was forcibly starved to death, or was murdered another way.
King Henry IV invaded Scotland in 1400 and placed Edinburgh under siege, but the siege failed. In 1402, the English successfully defeated a Scots raiding party. In 1405 the Archbishop of York led a rebellion against Henry IV but was defeated and executed. In 1406 Henry IV managed to capture James the son of King Robert III of Scotland. Although he succeeded to the Scottish throne in April 1406, he remained a prisoner of the English until 1412.
As Prince of Wales, Henry had been given control of the administration of Wales. In 1400 the Welsh revolted and Owain Glyn Dwr proclaimed himself the true Prince of Wales. Henry's army was initially defeated by the Welsh, but saw victory at the Battle of Shrewsbury on 21st July 1403. Glyn Dwr made an alliance with the French and continued to resist the English. However, the English continued to defeat the Welsh and by 1409 had control after taking Harlech Castle and Aberystwyth.
King of England
King Henry IV died on 20th March 1413 and Henry succeeded as King Henry V.
Henry believed that he had a claim to the French throne through Isabella of France, mother or Edward III who was Henry's great-grandfather. He made it difficult for the French to renew the peace between England and France, which then allowed him to invade France.
The ensuing war between the English and the French continued intermittently for 116 years and is known as the Hundred Years' War.
The English invaded France in August 1415. After capturing Harfleur King Henry V marched towards Calais. The English were met by a French force at Agincourt and secured a decisive victory. The following year Henry made gains in Normandy including Caen and Rouen. Having lost Normandy and the support of Brittany and Burgundy, the French sued for peace.
The Treaty of Troyes 1420 made Henry regent of France for King Charles VI. The treaty was to be sealed with the marriage of Henry to Charles's daughter, Catherine of Valois. The heirs of Henry and Catherine would inherit the English and French throne.
King Henry V married Catherine of Valois on 2nd June 1420 and their son, Henry was born on 6th December 1421.
While in France, on 31st August 1422, King Henry V died from dysentery at the Castle of Bois-de-Vincennes, France. He was succeeded by his son, Henry aged nine months.
Published Mar 22 2022 @ 8:20 pm – Updated – Sep 16, 2022 @ 11:47 am
Harvard Reference for King Henry V Family Tree:
Heather Y Wheeler. (2022). King Henry V Family Tree (1387-1422). Available: https://www.treesofblue.com/king-henry-v-family-tree-1387-1422. Last accessed September 6th, 2023