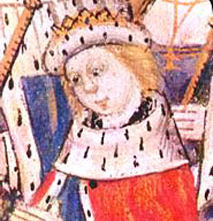 King Edward V Family Tree showing:
parents
Siblings
Short Biography
Early Years
King Edward V was born to King Edward IV and Elizabeth Woodville on 2nd November 1470 at Westminster Abbey. At the time of Edward's birth, his father had been defeated in battle by the Lancastrian forces of Henry VI and fled to Burgundy. Edward's mother siblings had sought sanctuary in Westminster Abbey and Edward had been born in the Abbey.
Edward IV raised a force in Burgundy and in Spring 1471 he invaded England and re-took the throne. King Henry VI was murdered in the Tower of London on the same day that Edward made his triumphant entry to the capital.
On 25th June, Edward was created Prince of Wales and Earl of Chester and designated heir to the throne. As Prince of Wales he was sent to Ludlow Castle where he was raised by a number of attendants including members of his mother's family.
King Edward IV became ill in the Spring of 1483 and it soon became clear he was dying. As Edward was just 12 years old he was not able to rule. King Edward IV nominated his brother, Richard Duke of Gloucester to act as regent.
Edward died at the Palace of Westminster on 9th April 1483 and Edward was proclaimed King Edward V.
Princes in the Tower
At the time of his accession, Edward was in the care of his maternal uncle, Anthony Woodville, Earl Rivers. The Woodville family wanted to keep power over the young king and began the journey south to London to have Edward crowned as soon as possible.
As nominated regent, Richard Duke of Gloucester wanted Edward placed in his care. He intercepted the Woodville party and had the adults arrested and placed in prison. He then continued to London with the young King Edward V and placed him in the Tower of London to await his coronation. Within a month, Edward's younger brother, Richard, joined him in the Tower.
In June 1483 it was announced that at the time Edward IV married Elizabeth Woodville he was already betrothed to Eleanor Butler. This invalidated the marriage and made the children of Edward IV illegitimate and unable to take the throne. As the next in line to the throne, Richard became King Richard III.
The two Princes in the Tower were last seen at the windows of the Tower in August 1483. At the time they were believed to have been murdered on the order or King Richard. This is now disputed and the disappearance of the Princes remains the subject of much speculation.
Published Mar 16 2022 @ 3:25 pm – Updated – Sep 16, 2022 @ 11:52 am
Harvard Reference for King Edward V Family Tree:
Heather Y Wheeler. (2022). King Edward V Family Tree (1470-1483). Available: https://www.treesofblue.com/king-edward-v-1470-1483. Last accessed September 6th, 2023