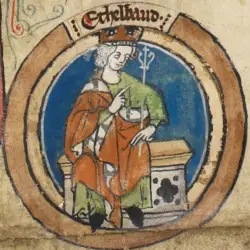 King Aethelbald Family Tree showing:
parents
siblings
partner
Short Biography
Early Years
King Aethelbald of Wessex was born around 834 to King Aethelwulf and his wife Osburh. He was the couple's second son and elder brother to Alfred the Great.
Aethelbald's father, Aethelwulf became King of Wessex following the death of King Egbert in 839. The following year the Vikings began raiding the south coast.
Regent and King of Wessex
In 852, Aethelbald's eldest brother, Aethelstan, died. Two years later Aethelbald's mother died and his father decided to go on a pilgrimage to Rome. During his absence, Aethelbald acted as Regent of Wessex.
In 856 King Aethelwulf returned with a new wife, Judith of Flanders, daughter of Charles II, King of the Franks. It is unclear whether Aethelwulf took back full rule of Wessex or if he shared it with Aethelbald.
When Aethelwulf died in 858, Aethelbald became King of Wessex. He then shocked the Churchmen and Ealdorman by marrying his stepmother, Judith.
Aethelbald died on 20th December 860 at Sherbourne and was succeeded by his younger brother Aethelberht.
First published 2017; updated and republished May 4 2022 @ 11:42 am – Updated – Sep 16, 2022 @ 10:38 am
Harvard Reference for King Aethelbald Family Tree:
Heather Y Wheeler. (2017 – 2022). King Aethelbald Family Tree (834-860). Available: https://www.treesofblue.com/aethelbald-of-wessex-d-860. Last accessed November 7th, 2023