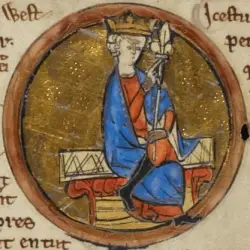 King Egbert Family Tree showing:
parents
partner
child
Short Biography
Early Years
King Egbert was born around 770 the son of Ealmund of Kent; his mother's identity is not known.
When he was sixteen, in 786, King Cynewulf of Wessex was murdered. Beothric was elected to be King but Egbert believed he had a legitimate claim and contested the election. Beothric was made King of Wessex and Egbert fled to Mercia where he sought the protection of King Offa. About a year later, Offa made peace with Beothric and Egbert fled to France where he is said to have lived in the court of Charlemagne.
King of Wessex
In 802 Beorhtric of Wessex died. Egbert returned to England and was elected King of Wessex.
The Battle of Ellandun, fought in September 825 between Wessex and Mercia saw Beornwulf of Mercia defeated. This made Egbert the dominant ruler in England. Four years later in 829, Egbert conquered Northumbria and became the first King to rule all kingdoms of England. His rule of England lasted just one year before Wiglaf took control of Mercia.
In 836 Vikings began raiding the south coast of England and Egbert was forced to divert his attention to stopping the attacks.
Marriage, Family and Death
Egbert married Redburga around 790 and some sources allege that she was the daughter of King Charlemagne of France.
Around 795, a son Aethelwulf was born to Egbert and Redburga.
King Egbert of Wessex died in February 839 and was buried in Winchester. He was succeeded by his son, Aethelwulf.
First published 2020; updated and republished May 9 2022 @ 7:52 pm – Updated – Sep 16, 2022 @ 10:37 am
Harvard Reference for King Egbert Family Tree:
Heather Y Wheeler. (2020). King Egbert Family Tree 770 – 839. Available: https://www.treesofblue.com/king-egbert-of-wessex-770-839. Last accessed September 7th, 2023