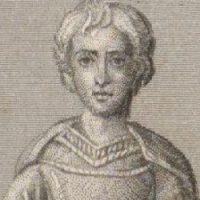 King Alexander II Family Tree showing:
parents
siblings
partner
children
Short Biography
King Alexander II was born on 24th August 1198 the son of William I of Scotland and Ermengarde de Beaumont. He was the couple's only son.
He became King on the death of his father, William the Lion in 1214. Wanting to reclaim lands lost in England, Alexander sided with English rebel barons against King John. However, the English king died in 1216 before any gains could be made.
Alexander made peace with John's son, King Henry III and married his sister, Joan. Alexander II did much to unite the Scottish lords under his rule but was unable to conquer the northern islands which were held by Norway. In 1237 Henry and Alexander agreed the Peace of York which set the boundary between England and Scotland.
Alexander and Joan had no children. After Joan died in 1238, Alexander II married Marie de Coucy and they had a son, Alexander.
King Alexander II died on 8th July 1249 on Kerrera island. He was succeeded by his son Alexander III.
Published May 15, 2020 @ 8:35 pm – Updated – Oct 3, 2022 @ 9:28 am
Harvard Reference for Alexander II Family Tree:
Heather Y Wheeler. (2020 – 2022). King Alexander II Family Tree 1198-1249. Available: https://www.treesofblue.com/king-alexander-ii-of-scotland-1198-1249. Last accessed September 10th, 2023