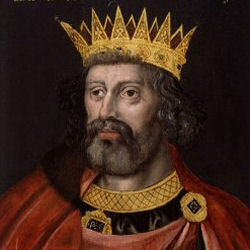 King Henry III Family Tree showing:
parents
siblings 
partner 
children 
Short Biography
Early Years
King Henry III was born 1st October 1207 to King John and Isabella of Angouleme at Winchester Castle. He was the eldest of the couple's five children. His brother Richard was born in 1209 and his sisters Joan, Isabella and Eleanor were born in 1210, 1214 and 1215 respectively.
Henry was tutored by the Bishop of Winchester, Peter des Roches. He was also taught to ride a horse and how to use a sword and shield.
Henry's father, King John was in continual dispute with the Barons and in 1215 was forced to sign Magna Carta, a charter which agreed measures for the Barons and reduced the power of the King. However, John repudiated the treaty claiming that he signed under duress.
Regency
On 18th October 1216, Henry's father, King John died. Henry, aged 9 years became King. His coronation took place on 28th October 1216 at Gloucester Cathedral. Henry was too young to rule the country so William Marshal was appointed regent until he came of age.
Under Marshal's regency the conflict with the Barons was finally resolved by the Treaty of Kingston in 1217. In 1219, William Marshal died and Hubert de Burgh took over as regent. A year later, Henry's mother caused controversy when she married Hugh de Lusignan, the intended bridegroom of Henry's sister, Joan.
Henry came of age in 1227 and began to rule independently. However, the former regent Hugh de Burgh retained a strong influence.
Marriage and Family
King Henry III married Eleanor of Provence at Canterbury Cathedral on 14th January 1236. On the same day Eleanor was crowned Queen of England at Westminster Abbey. Henry was 28 and Eleanor was aged 12 so the marriage was not consummated until Eleanor was 14 years old. The couple had five children:
Edward born 18th June 1239
Margaret born 29th September 1240
Beatrice born 25th June 1242
Edmund (known as Crouchback) born 16th January 1245
Katherine born 25th November 1253
War with France
Henry wanted to reclaim the lands in France lost by his father. In May 1230 he left England at the head of an army but six months later, having made no gains had to agree a truce with France.
In 1242 Henry made a second attempt to reclaim the land but was defeated at Taillebourg.
A third invasion of France in 1254 fared no better and in 1258 Henry agreed the Treaty of Paris which officially recognised the loss of Normandy and Poitou to France. England retained control of Aquitaine.
Wales
In 1240 Llewelyn the Great of Wales died. Henry immediately took control of North Wales. In 1256 Llywelyn ap Gruffydd rebelled against the English and declared himself Prince of Wales but within a year he was defeated by Henry and Prince Edward and Wales remained under English control.
Conflict with the Barons
By 1234 the Barons were becoming restless again and rebelled against the strong influence of the French at court. On the advice of the Archbishop of Canterbury, Henry dismissed his chief advisor, Peter des Roches.
In 1254 Henry had made an agreement with Pope Innocent III for his son, Edmund to become King of Sicily. However, Innocent died and the new Pope Alexander IV reneged on the deal and demanded Henry repay all money already contributed by the Papacy. By 1258 the Pope was threatening to excommunicate Henry if he did not repay the money.
The King had no choice but to ask parliament to raise funds for him to pay the Pope. The Barons seized the opportunity to demand reform and Henry agreed the Provisions of Oxford.
The Provisions of Oxford stated that a group of 24 men, 12 selected by the King and 12 by the barons were to act as advisers to the King.
In 1262 King Henry III repudiated the Provisions of Oxford prompting a Civil War between the Barons and the King.
The Battle of Lewes fought on 14th May 1264 saw Henry III and Prince Edward defeated and taken prisoner by the army of the Barons led by Simon de Montfort. However, Edward managed to escape, raise a force and defeat the Barons. Simon de Montfort was killed.
Released from imprisonment King Henry III dealt harshly with those Barons who had fought against him.
Later Years
With the Barons subdued Henry turned his attention to rebuilding Westminster Abbey and his son joined the eighth crusade.
King Henry III died on 16th November 1272 and was buried in Westminster Abbey. He was succeeded by his son Edward, who became King Edward I.
Published Sept 25, 2021 @ 11:13 am – Updated – Sep 16, 2022 @ 11:40 am
Harvard Reference for King Henry III Family Tree:
Heather Y Wheeler. (2021 – 2022). King Henry III Family Tree (1207-1272). Available: https://www.treesofblue.com/king-henry-iii-of-england-1207-1272. Last accessed November 7th, 2023