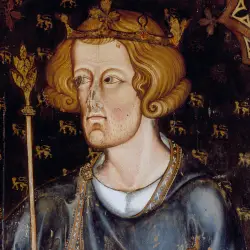 King Edward I Family Tree showing:
parents
siblings 
partners
children 
Short Biography
Early Years
King Edward I was born 18th June 1239 to King Henry III and Eleanor of Provence at Westminster Palace. He was the eldest of the couple's five children. His brother Edmund was born in 1245 and his sisters Margaret, Beatrice and Katherine were born in 1240, 1242 and 1253 respectively.
Throughout his childhood England was constantly at war with France as King Henry III tried in vain to recover lands lost in France by King John.
Marriage and Family
Edward married his first wife, Eleanor of Castile in 1254 when he was 15 years old. The couple were very close and had 15 children. When Eleanor died in 1290 Edward was very upset and arranged an elaborate funeral for her. He also ordered that twelve Eleanor Crosses be erected along the route of the funeral procession. Some are still standing, the most famous of which is the stone monument at Charing Cross.
King Edward I married for a second time in 1299. The bride was Margaret, the sister of Philip IV of France and formed part of a peace between England and France. Edward and Margaret had three children.
A Warrior Prince
In 1257, Edward accompanied his father to Wales and helped to defeat a Welsh rebellion led by Llywelyn ap Gruffydd.
Five years later, England was thrown into Civil War when the Barons refused to grant the King money unless he gave them a greater say in government.
The Battle of Lewes fought on 14th May 1264 saw Henry III and Prince Edward defeated and taken prisoner by the army of the Barons led by Simon de Montfort. However, Edward managed to escape, raise a force and defeat the Barons. Simon de Montfort was killed at the Battle of Evesham in 1265.
With England at peace, Edward and his wife left England to join the Eighth Crusade. He was in Sicily when he learned that his father had died and he was King of England.
Wales
Edward and his wife returned to England and were crowned at Westminster Abbey in 1274. Llywellyn ap Gruffydd refused to pay homage to the new English King and war broke out between the two countries.
Edward secured the Isle of Angelsey forcing Llywellyn into the Snowdonia mountains. With no food or supplies Llywellyn was forced to surrender.
To secure Wales, Edward began a programme of castle building. Castles were built at Harlech, Conwy and Caernarvon. The Statute of Rhuddlan 1284 divided Wales into shires and made the people subject to English common law.
Scotland
In 1290 it was agreed that Edward I's son and heir, Prince Edward, would marry Margaret of Norway, heir to the Scottish throne.
Margaret began the journey to Scotland to take her place on the throne but died on the journey. This led to a dispute between Robert Bruce and John Balliol who both believed they should be King of Scotland.
In 1292, Edward was asked to mediate in Scotland and decide who should be King. Edward agreed on condition that he was made Overlord of Scotland. The Scots agreed and Edward chose John Balliol to be King.
By 1295 the Scots wanted rid of their English Overlord. Led by William Wallace, they began to rebel against Edward. Balliol made an alliance with France and prepared to invade England.
Edward marched his army to Scotland. They were armed with a new weapon, the longbow, which was used to secure victory at the Battle of Dunbar in 1296. Balliol was captured and imprisoned in the Tower of London. King Edward seized the Stone of Scone – a symbol of Scottish sovereignty- and had it placed in the English Coronation throne.
In 1197, the Scots, led by William Wallace and Andrew Moray, defeated the English at Stirling Bridge. However, the victory was short lived, less than a year later King Edward I defeated the Scots at the Battle of Falkirk.
In 1302, Robert Bruce's grandson allied himself with the English. However, this was a ruse and in 1306 he declared himself King of Scotland. Once again Edward marched north and Bruce was forced into hiding. He secretly raised an army determined to oust the English from Scotland. However, it would be left to Edward's son to deal with the Scots.
Death
King Edward I died of dysentery on 7th July 1307 in Northumberland. He was succeeded by his son Edward II.
Published Sept 29, 2021 @ 8:22 pm – Updated – Sep 16, 2022 @ 11:44 am
Harvard Reference for King Edward I Family Tree:
Heather Y Wheeler. (2021 – 2022). King Edward I Family Tree (1239-1307). Available: https://www.treesofblue.com/king-edward-i-of-england-1239-1307. Last accessed November 6th, 2023